Diwali Pohe Chivda
As Diwali approaches ladies get ready to prepare variety of traditional Diwali sweets and namkeens. Sweets like Rava/Besan laddoos, Karanjis (Gujiyas), Shakkar parees (shankarpale), Anarase, Chirote and probably to balance the taste namkeens like Chivda, chakali, sev, kadboli etc are prepared. These traditional dishes are called Diwali ka Faral (दिवाळी चा फराळ). Joy of enjoying this Faral is not only in cooking and eating but also in sharing it with near and dear ones including neighbours…………… Chivda is hot favourite dish of most of the families and is also easy and quick dish to make….so lets try it…..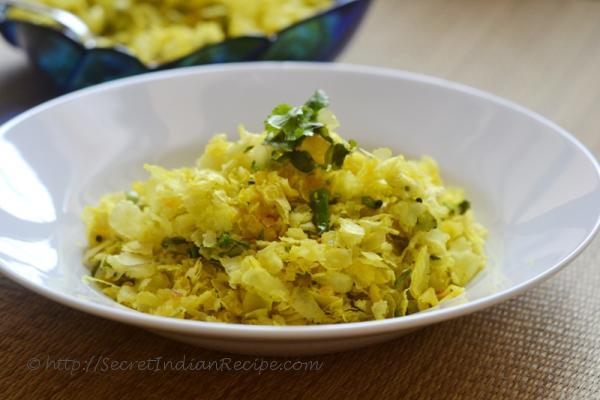 Ingredients:
Flat thin pohe: 2 to 3 cups
Curry leaves: one bunch (app 15 to 20 leaves)
chopped Green chillies: 2 to 3 as per taste
Oil : 4 tbsp
Turmeric powder: 1/2 tsp
Rai / Mustard seeds: 1 tsp
Cumin seeds 1 tsp
Hing (asafetida) 1 tsp
Roasted Chana Dal : 1 tbsp
Thinly sliced dry coconuts: ¼ cup
Roasted cleaned peanuts ¼ cup
Cashews (split) ¼ cup
Salt to taste
Sugar 1/2 tsp
Lemon juice of half lime (optional
Directions:
Dry roast the thin pohe for 3 to 5 mins until nice and crisp. Keep stirring lightly while roasting to avoid burning and avoid breaking. Keep poha in a big pan.
Fry roasted chana dal, peanuts, cashewnuts and coconut slices separately for 2 to 3 mins (till soft golden brown) as each ingredient needs required time to roast.
In kadhai heat oil. When smoky hot, reduce the flame and add mustard seeds. Cummin Seeds, Allow spluttering
Add green chillies, Hing (asafetida) and curry leaves. Let it cook till crisp and till all moisture dries, wait till all bubbles disappear
Add all roasted items i.e. dry coconut slices, chana dal, cashew nuts and mix them well.
Add turmeric, salt and sugar and lemon juice of half a lime. Mix well while roasting all ingredients together for 2 minutes. Switch off the flame.
Pour the tempering on poha that is kept in the pan and mix it well gently and evenly.
Allow the mixture to cool completely before transferring into a airtight container
Serve this chivda along with Karanji and other diwali treats
Footnotes:
This chivda needs only thin poha not the thick one