Dodha Mithai
On the occasion of Diwali why not make a very unique sweet which has a history since 1912 and has originally come from Pakistan City called Ushab . Halwai Hansraj Hans originated this very unique recipe and now it is very popular on the streets of Punjab . #diwaliRecipe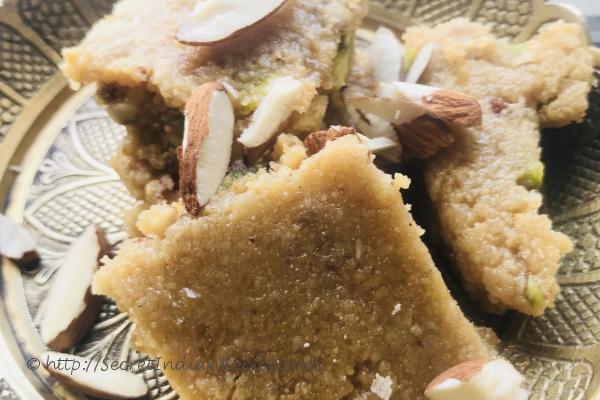 Ingredients:
Full fat Buffalo milk- 2 litres
Alum or phitkari - 10 gms
Germinated Wheat - 30 gms
Curd - 30 gms
Rawa or Sooji - 100 gms
Liquid glucose - 1tsp
Chopped dryfruits
Sugar as needed
Ghee as needed
Milk - 2 tbsp
Directions:
Start by boiling milk in a Iron Kadai till it reduces to half.
Crush alum and mix in little water. Also crush sprouted wheat in a hand pestle ( medium) and mix along with curd .
Once the milk is reduced to half, add alum and mix well . It will start to curdle . Add the wheat and curd and keep on mixing . The basic trick is not to leave the Kadai still . You have to continuously stir it like Halwai does .
Once the entire mixture turns thick , slowly add in sugar . As sugar leaves water, please be careful . Mix till the sugar dissolves and again the mixture is thick . The mixture will change the colour to dark brown .
Now add in the chopped dryfruits along with sooji and mix well . Start adding ghee to get the shine .
Lastly add liquid glucose and mix well . Take a greased tray and pour the mixture, Garnish with dry fruits . Keep it covered for 3 hours . Cut into pieces and serve !!