Doi Potol (pointed Gourd Cooked In Curd Based Gravy)
Doi potol is a ¬¬traditional Bengali vegetarian side dish. Although Bengali cuisine is known for different preparations of Fish and other seafood but there are particular occasions, when they eat only vegetarian food for example during ' Pous Puja' or on 'Ashtami', a day when they offer ' Anjali' to 'Goddess Durga'. Doi Potol is one of the most preferred option for vegetarian side dish. It is a typical Bengali sweet and sour recipe. My own memories of this recipe remind me of my summer holidays, when I used to go to my Aunt's place at Shantiniketan. My Aunt's landlady was widow and in those days, eating non vegetarian food and onion and garlic was a taboo for widow and thus she used to cook their food separately sans any onion and garlic. I was quite attached to her and I used to share her food. Doi patol was one of the recipes which I used to like very much. Although her version did not include any onion and garlic and the curry used to be a mix of cumin, ginger, red chili and curd but when I make it at home now, I add onion and garlic to enhance the taste.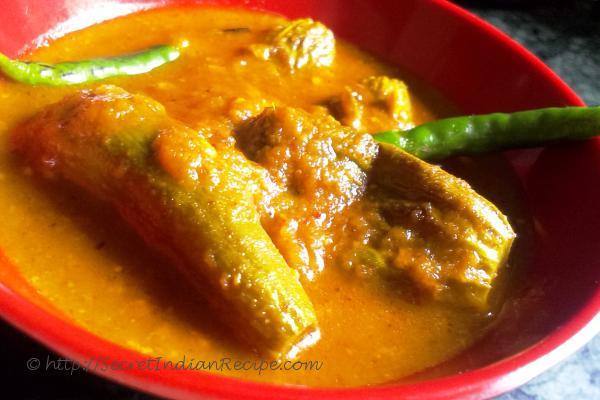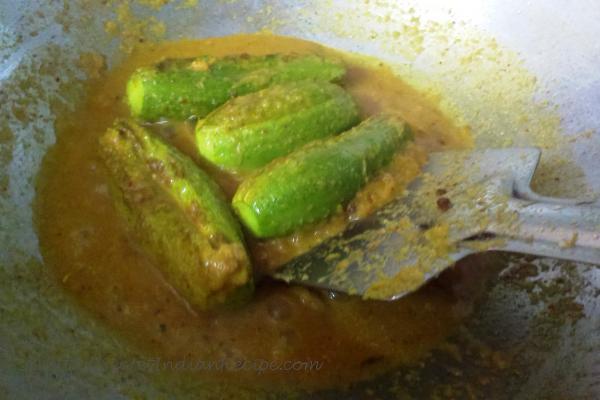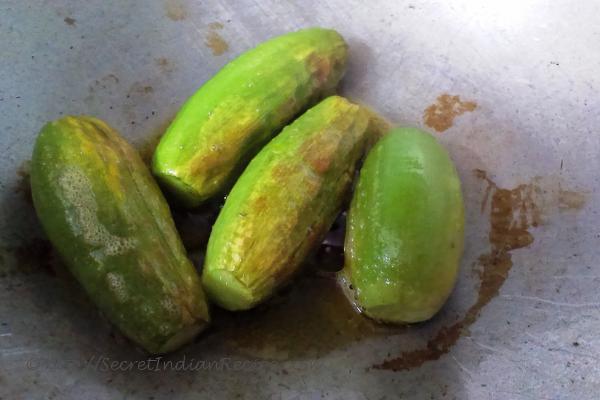 Ingredients:
Patal (Pointed Gourd) – 250 grams
Dahi (Curd) – ½ cup homemade
Bay leaf – 1 leaf
Cloves – 2 pieces
Cardamom – 2 pieces
Cinnamon – ¼ inch piece
Onion paste – 1 medium sized onion
Ginger & garlic paste – 2 tablespoon
Red chili powder – ½ tablespoon
Turmeric powder – ½ tablespoon
Garam masala powder – ½ tablespoon
Salt – To taste
Sugar – to taste
Oil – 4 tablespoon
Directions:
To begin making dahi patal, Scrap the outer surface of the patal and trim both the sides. Then wash them thoroughly and then pat dry with kitchen towel. Now make side cuts on the surface of the Patal and keep aside.
Whisk the home made curd with ¼ cup of water and keep aside.
After the initial preparations, heat oil in a pan and fry the patal till they start turning a little brown. Take out and keep on a plate. In the remaining oil add bay leaf, crushed, cloves, cardamom and cinnamon.
As the whole spices begin to pop up, add the onion paste and ginger & garlic paste. Saute the masala for about 5 mintues, till the oil separates out.
Now add the powder spices, turmeric powder, red chili powder, garam masala and sauté for another 2 mintues.
Finally add the fried patal, salt, sugar and whisked curd and mix. Add ½ cup of water and bring the curry to a boil.
Put the flame low and let the curry simmer for 15-16 mintues and then check if the patal is well cooked. Check the required consistency of gravy if it has excess water, then incraese the flame and evaporate the excess water. Switch off the gas and serve hot with steamed rice or chappati.