Dragon Fruit Millets Kesari
#DiwaliRecipe or #DiwaliRegionalRecipe 
Pink flesh dragon fruit or Pitaya is cooked in ghee along with roasted & powdered millets, sugar , cardamom and garnished with Cashew nuts and finally flavored with rose water. You will love this yummy and pinky "Dragon Fruit Kesari".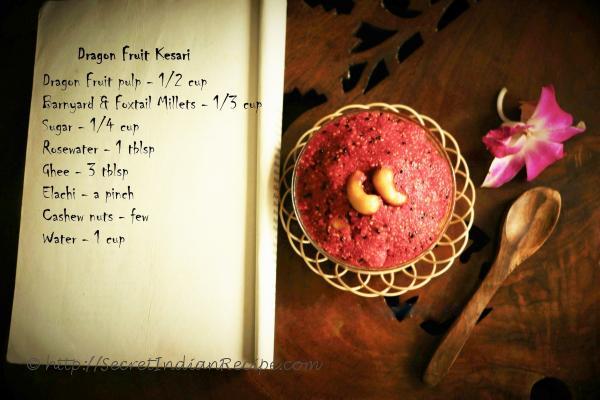 Ingredients:
Pink Dragon Fruit/Pitaya Pulp – ½ cup
Mix of Barnyard & Foxtail millets – 1/3 cup
Brown Sugar – ¼ cup
Rosewater – 1 tblsp
Ghee – 3 tblsp
Cardamom Powder – ¼ tsp
Cashew nuts – few
Water 1 cup
Directions:
Cut the dragon fruit into half. We actually need less than ½ dragon fruit to make it exactly ½ cup pulp. The measurements of rest of the ingredients are based on ½ cup pulp.
Scoop the dragon fruit out and chop them into big chunks.
Grind them without adding any water. You will see the seeds still visible. It is just fine as we need that nutty flavor in the final dish. There should not be any chunks of dragon fruit left out.
Take a non-stick pan and dry roast the mixed millets until a nice aroma comes. Allow it to cool.
Add them in the mixer and blending it into coarse powder consistency. It need not reach the sooji rava consistency.
Take the non-stick pan and in medium flame, add ½ tblsp ghee and roast the cashew nuts.
Once roasted, take the cashew nuts and keep it separately.
In the same pan, add dragon fruit pulp first and then water and let it boil.
Once it boils, reduce the gas to low flame and add the millets .Keep stirring continuously without forming lumps.
Once it becomes thick and the millets are cooked add cardamom powder, sugar and give it a mix.
At this stage you might see some water coming but it is still fine the dish will get thicker.
Once the sugar is mixed and melted, add cashew nuts and ghee around 2 ½ tblsp.
Lastly add the rose water and give a mix. Switch off the gas.
Footnotes:
The pink dragon fruit is really sweet so make sure you adjust the sugar quantity as per your taste. The measurement give above is just fine for us.
The black nuts is very difficult to be crushed and its tastier to keep it as it is. Hence do not worry if you see the black nuts.
I have added brown sugar but you may add the normal white sugar.
The pink dragon fruit would spread color through-out while cutting or handling, so you may prefer to handle it accordingly. However it is easily washable.
You may wish to double up the rose water quantity if you love the smell.
You may roast the millets in ghee instead of dry roast, in that case increase the quantity of ghee.