Dubki (gram And Black Lentil Ball Curry)
Dubki is a popular side dish recipe in Bihar and Uttarpradesh. It consists of lentil balls dipped into a spicy curry and hence the name ' Dubki ' which means 'dipped'. It is usually served with boiled rice and onion.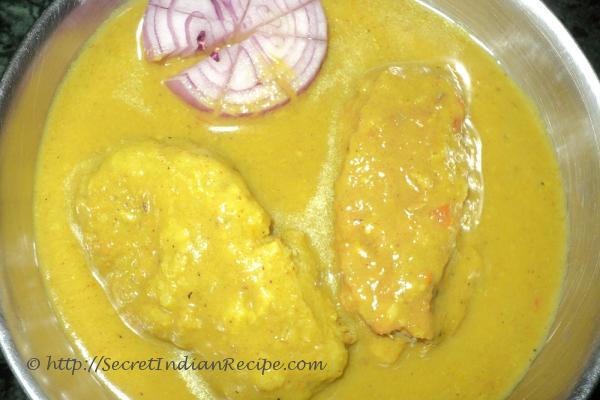 Ingredients:
Channa dal (Bengal lentil) 100 grams ( soaked for 4 hours)
Safed Urad dal (Peeled black lentil) 100 grams (soaked for 4 hours)
Green chillies 3-4 pieces
Cumin seeds 1 tablespoon
Hing (Asafoetida) 1 pinch
Onion paste 1 onion
Ginger garlic paste 2 tablespoon
Cumin powder 1 tablespoon
Red chilli powder ½ tablespoon
Black pepper powder ½ tablespoon
Salt 1 tablespoon
Mustard oil 8-9 tablespoon
Directions:
Wash channa and urad dal thoroughly and drain the excess water. Afterwards grind the channa dal, urad dal, hing, green chillies, cumin and ½ tablespoon of salt together in a batter.
Heat oil in a karahi and make long pakoras with a batter. Leave about four tablespoon of batter aside.
Once the pakoras have been fried, put the onion and ginger garlic paste in the remaining oil. Saute for 2-3 mintues.
Then add cumin powder, black pepper powder, red chilli powder and salt and fry for 2 more mintues.
Finally add the leftover batter and 2 cups of water. Mix well and let the water boil. Add the pakoras and cook on low flame with a lid for 5-6 mintues. Dubki is ready, serve it with boiled rice.