Duck Roast
Duck roast is a continental dish usually prepared in Christmas Eve; some ingredients are added to satisfy Indian taste. It is served with boiled potatoes.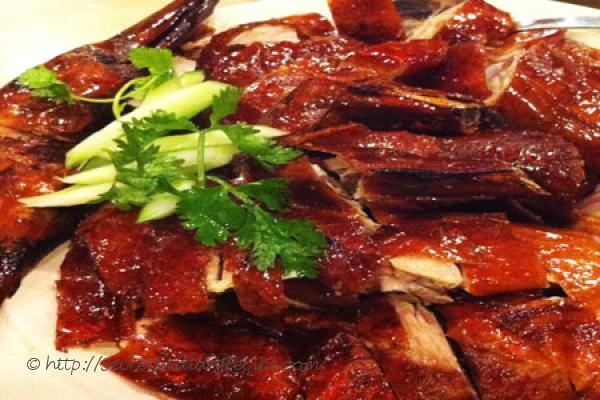 Ingredients:
Whole duck 1- (medium size)
Garlic paste 2 tbsp
Rosemary and thyme herbs
Sour curd 4 tbsp
Nutmeg powder ½ tsp
White or black pepper powder 1 tbsp
Red chili powder (optional) 1 tsp
Melted butter 4 tbsp
Potato 4 small size
Cherry tomato 6
Salt to taste
Onion and lemon ring to garnishe
Directions:
Clean the duck properly and Marinate outside and inside skin of the duck with garlic paste, herbs, curd and all powdered spices Keep the duck for overnight Again marinate with salt and 2 tbsp melted butter Heat a roast tray and roast the duck for an hour or keep in microwave oven for 35 to 40 minutes
Occasionally brush butter Boil the potatoes with salt and lightly fry in butter, keep aside
Lightly boil tomatoes with salt Serve the duck with potatoes and tomatoes
Garnish with onion and lemon
Other Indian Recipes that you may Like !