Dum Chicken Biryani (fragrant Chicken And Rice Cooked Dum Style)
I witnessed the making of this recipe in a small very famous roadside Biryani place in Hyderabad. Since then I have been making Biryani the same way and its quite popular among my peers. Its a fairly easy way to prepare Chicken Biryani.
Note: Biryani is said to have been invented in the kitchen of the Muslim Mughal Emperors and since then is loved by all.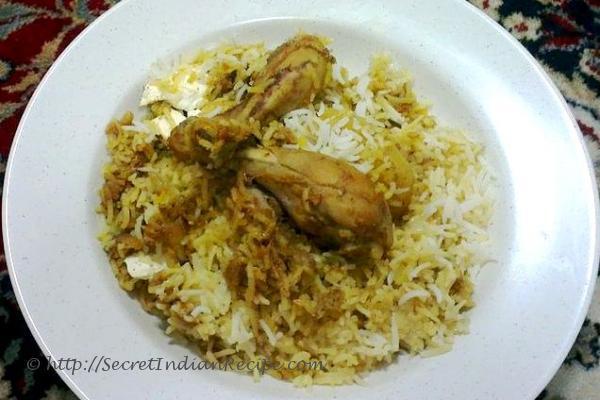 Ingredients:
1 Kg Cleaned and Cut chicken (without skin)
500 gm Good quality Basmati rice
3 Tbsp Biryani masala ( try Shaan Bombay Biryani masala)
1 tsp Shahi Jeera
2 pcs Mace
2 Bayleaves
1 Tbsp Ginger garlic paste
1/2 cup chopped coriander leaves
1/2 Cup chopped mint leaves
1 Tbsp red Chili powder
1/2 Tbsp Turmeric powder
3 Onions Thinly sliced and crisp deep fried
1/4 Cup oil
3/4 Cup Curd or yogurt
1/2 Tbsp Kewra essence
1 Tbsp chopped green chilies
salt to taste
2 tsp kear and milk mix for color (or 2 drops of red/orange color in 1 tbsp water)
Directions:
In a bowl take chicken add green chilies, Biryani masala, Shahi Jeera, mace, Bayleaves, Ginger garlic paste, chopped coriander leaves, mint leaves, Chili powder, Turmeric powder, 1/2 of the friend onions, oil, yogurt, Kewra essence, salt to taste. Cover and set aside for two hours to marinate
Also Soak Basmati rice in water for 1 -2 hours
Boil water to cook rice, add 3 tbsp oil and salt to the boiling water. Add in the rice and let it cook only 50%. When half cooked remove from hear and strain out the water instantly leaving the rice dry.
Heat a deep bowl/vessel or pressure cooker, transfer the marinated chiken in it, spread it our evenly. layer the rice on top of the chicken. Add more mint leaves, coriander leaves, colour ot kesar and milk mix and remaining fried onions
Cover the vessel using a tight lid and seal it with dough/ foil.
(for dum - seal with dough: using whole wheat flour or plain flour make dough like for bread and use the dough to seal the vessel and lid to avoid the steam to escape)
Let the biryani cook for 30 mins to 35 mins on medium flame
After 30 mins let it sit for another 15 mins, open and check if the chicken is done and rice is cooked perfectly well.
Serve hot with raita/salad, papad and chopped onion slices