Easy Aloo Matar Sabzi ( Easy Potatoes And Peas Side Dish)
Potatoes are available in any Indian Household at any given time. Usually when I cannont decide what to cook, I end up making potatoes or Aloo ki sabzi. In my experimental adventures, I have mastered this Aloo Matar recipe. Its easy and my kids love it. This is a very quick recipe, suitable for a quick breakfast or dinner.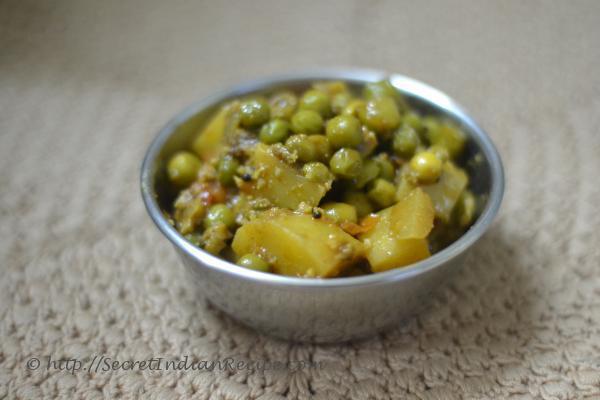 Ingredients:
Aloo ( potatoes) - 4 pieces
Matar ( green pea) - 1/2 bowl
Zeera ( Cumin seeds) -1/4 tablespoon
Tomato - 1 piece ( chopped)
Turmeric powder - 1/4 tablespoon
Red chilli powder - 1/4 tablespoon
Onion - 1 small piece ( chopped)
Salt - 1/2 tablespoon
Mustard oil - 2 tablespoon
Directions:
Peel the potatoes and cut into small size.
Heat oil in a pressure cooker and add cumin seeds . As it starts browning and spluttering add the chopped onion and tomatoes. Sauté for 1 min . Then add potatoes, red chilli and turmeric powder. Mix well and cook for another minute
Finally add green peas, salt and 1/2 cup of water.
Put the lid on and cook up to two whistles.
Open the lid and fry the vegetables till the water evaporates.
Serve it with Paratha or chapatti
Footnotes:
Garnish with some chopped coriander leaves at the end.
You may even flavor the aloo matar sabzi with herbs such as dill leaves or Sooa saag as it is known in Hindi. It just adds a new variation and punch to this simple aloo matar. The dill leaves can be added after the vegetables have cooked. Open the cooker, add dill leaves, close and let it rest for 5 minutes.