Easy Chakli Recipe Using Rice And Butter
This tempting south indian version of chakli is made using rice flour enhanced with sesame seeds & cumin seeds. Keep the snack handy for between - meals hunger pangs!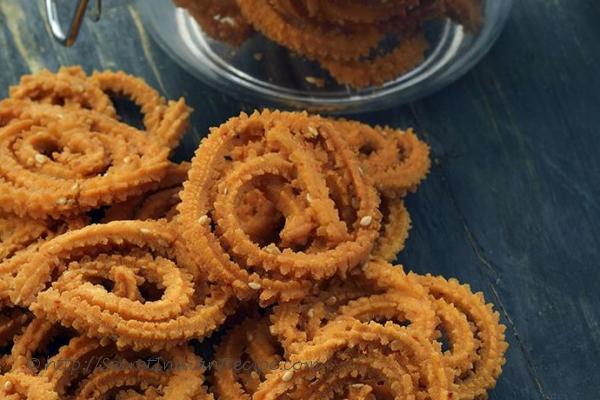 Ingredients:
250 gm Idli Rice
50 gm split Black gram (urad dal)
50 gm Bengal gram (hurigadle / putani/dalia split)
3 tbsp Butter
2 tbsp Chilli powder
2 tbsp Sesame seeds (white/black til)
2 tsp Carom (ajwain)
Salt to taste
Oil to fry
Directions:
In a frying pan slightly dry roast rice,urad dal, putani separately & make it into fine powder.
Add carom , salt ,chilli powder, cumin seeds, sesame seeds, hot butter to the above powder and give a through massage with hand.
Now add half cup hot water in the above mixture & mix it well.
Mix the dough with a hot water to make it soft . Rest it for 10 min .
Heat oil in a pan .
Make spirals with the help of chakli mould & deep fry it to a golden colour .
Serve crispy chakali with hot coffee or tea.
Other Indian Recipes that you may Like !