Easy Indian Butter Chicken (chicken Cooked In Succulent Gravy)
The most easiest way to cook this is if you have chicken tandoori pre made or bought. Many a times my mother did that. But let me show you a quick way to to make chicken tandoori and then the gravy from scratch. This dish uses minimum ingredients without compromising on the quality. #MothersDaySpecial Recipe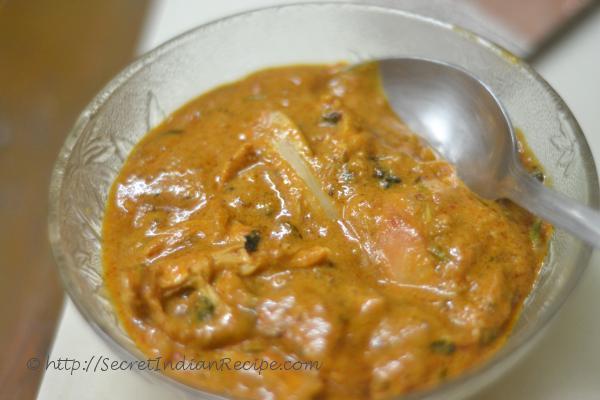 Ingredients:
Chicken Thigh boneless Meat : 500 gms
FOR MARINATION
Greek Yougurt : 1 Cup
Shaan Tandoori Masala : 3 Tbsp
Ginger Garlic Paste: 1 Tbsp
Sugar: 1 Tsp
Salt: 1 Tsp
Rose water: 1/2 tsp
FOR GRAVY
Onions: 4 ground to paste
Tomatoes: 4 Pured (Pure with a dash of sugar)
Salt to taste
Home Made Garam Masala: 1 Tsp
Full fat Cream: 4 Tbsp
Butter: 2 Tbsp
Kashmiri Red Chili Powder: 2 Tsp
Kasoori methi: 1 tsp
Coriander for Garnishing
Oil: for cooking (About 6 Tbsp)
Tandoori masala: 1 Tsp
Vinegar: 2 Tsp
Directions:
For Marination take all ingredients in a bowl and add chicken. Massage the chicken well with your fingers to coat the marination well to the chicken
Keep the chicken to marinate for atleast one hour in fridge
In a Kadhai or deep pan take oil, when hot add onion paste. Add pinch of salt, Cook on low heat till onion paste turns slighlty brown (It may take about 15 good mins)
Add Red Chili powder, ginger garlic paste, 1 tsp tandoori masala and tomatoes. Cover and cook on medium heat for 15 mins more. Keep stirring in between
When oil starts leaving the sides add garam masala, add kasoori methi and mix well. Add Vinegar and keep mixing on very high heat till the vinegeri smell fades off. Reduce heat and continue cooking for 10 more minutes.
If you see the gravy is drying out keep adding hot water one spoonful at a time. When garvy is nice and thick, add butter and turn off the heat
Pre Heat the oven for 30 mins, When the chicken is marinated grill it in oven for 30 mins on 140 degress (Time may vary depending on the cut size) For the last 2 mins, turn to top cooking only and cook on full tempreture from to char the chicken a bit
Remove the chicken from oven and cut the pcs into smaller pcs and Transfer the cooked chicken with its juices in the gravy, cook with the gravy for 5 mins trun off the heat and add cream
Garnish with coriander and serve