Eeral Kuzhambu - Mutton Liver Curry
Mutton liver is rich in iron. It's a delicious recipe which I learnt from my grand mom. She used to prepare this curry the traditional way, but using a manual stone grinder to grind each and every ingredient required, just like the old days.We still miss the taste of this curry which was prepared then. However, I try to get that taste and aroma using present day mixer. This dish goes well with rice, chapati, idli, dosa and naan.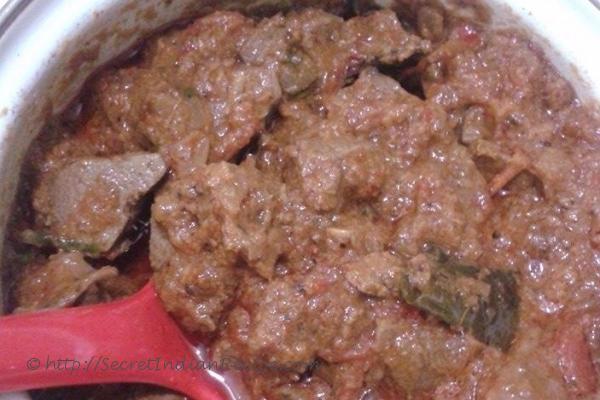 Ingredients:
Mutton liver - 1 kg.
Onions - 1/4 kg. finely chopped
Tomatoes - 1/4 kg finely chopped
Coriander leaves - one bunch
Ginger and Garlic paste - 2 tbsp.
Cardamom - 2 pods
Cinnamon sticks - 2
Cloves - 4
Curry leaves - 10 leaves
Salt - as per taste
Vegetable oil- 5 to 10 tbsp.
Pepper corns - a spoonful.
Kaskasa (poppy seeds) - one tbsp.
Saunf - 1 tbsp.
Turmeric powder - 1/2 tbsp.
Chili powder - 1 tbsp.
Green chili - 2 sliced
Coriander powder - 2 tbsp.
Directions:
Clean and wash the Mutton liver and add a pinch of turmeric powder and salt and mix it well and keep it aside for ten minutes.
Place a fry pan on low flame to roast the following ingredients. Saunf, poppy seeds and chopped coriander leaves. Add this one by one and saute it for 2 minutes then remove it from the pan.
Now add the roasted ingredients in the mixer along with peppercorns and little water, grind it all together and make a paste and keep it aside.
Place a curry pan on medium flame and pour oil in the pan. Once oil is hot add curry leaves, cardamom, cinnamon sticks and cloves, saute it for 5 to 10 seconds.
And add chopped onions and saute it till golden brown. Once the onions turn to golden brown add sliced green chilies and chopped tomatoes.
And sprinkle little salt and saute the mixture for 5 minutes till the tomatoes are cooked completely. Now add ginger and garlic paste and saute it for half a minute.
Now add the mutton liver and sprinkle turmeric powder, chili powder, coriander powder, grounded paste and saute it well.
Leave it on medium flame till liver cooks well. You don't have to pour water for this recipe.
The liver will cook from the juice of tomatoes and coriander mixture. Just make sure to saute it every now and then so it doesn't get burnt at the bottom of curry.
In approximately 10-15 minutes the liver should be completely cooked.
Garnish with few coriander leaves and few drops of lemon juice if required and serve it hot with rice, naan, dosas or idlis.
Footnotes:
If you feel the liver is not cooked completely, you may add half a glass of water to the curry and leave it to cook. However we will get the best taste without adding water.
Other Indian Recipes that you may Like !