Egg Fried Rice (egg And Rice Fried In Indian-chinese Style)
Yet another popular Indo-Chinese delicacy that has conquered our appetites and palates. Making fried rice at home happens to me when I have nothing proper to cook and have a potpourri of ingredients in my pantry. And I always stock frozen veggies and eggs so I toss them around and make fried rice. It goes well with plain humble ketchup so one does not need to bother for a side dish. I guess this should be a bachelor's favorite.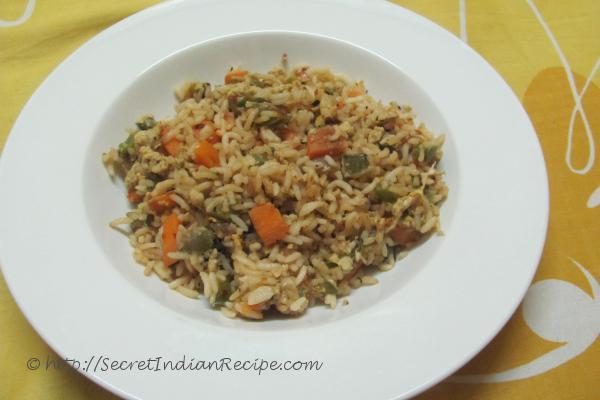 Ingredients:
Basmati Rice- 1 cup
Carrots- 2
Capsicum- 2
Shredded cabbage- 1 cup
Eggs- 4
Onion- 1
Garlic- 4 pods
Pepper powder- 1 tsp
Salt- 1 tsp
Oil- 4 tbsp
Chili flakes- 1 tsp (optional)
Soy sauce- 2 tbsp
Directions:
Boil rice till it is half done and after draining pour ice cold water so that it does not stick. I made my fried rice with leftover rice because I made quick plans to do so and had not planned to make fried rice initially.
But if you actually plan on making fried rice half cook the rice.
Chop the veggies evenly and into small bits. If you use frozen veggies you need not bother to do this.
Heat a wok and keep the flame high. Add the onions and finely chopped garlic. Keep tossing them around.
Add the veggies and toss them too. Now add the whisked eggs and scramble them with the veggies. Since the wok is on high flame the egg will scramble fast.
Add the salt, soy sauce and chili flakes and toss the veggies. If it is frozen veggies they won't need much time.
Add the rice and toss it 4-5 times. Lower the flame and cook for 5 minutes. Keep stirring so that the rice does not stick.
Add pepper powder and give the rice a stir. And your egg fried rice is ready.