Egg Hakka Noodles Recipe
This egg Hakka noodles recipe does take a bit of time to prepare but it is totally worth the wait and effort.. I made Egg Hakka noodles with veggies and also served Gobi Manchurian on the side. The Gobi Manchurian recipe is shared separately.
Usually, when you cook egg fried rice or noodles at home it tastes eggy... not in a bad way but because at home we cannot use very high flames so the noodles get that eggy taste when egg is added. I have found a way to get rid of this "egginess" flavor from the noodles. The trick is to cook the eggs and noodles separately and then combine together.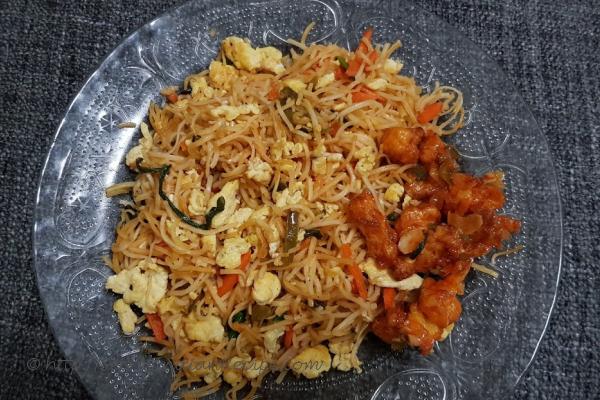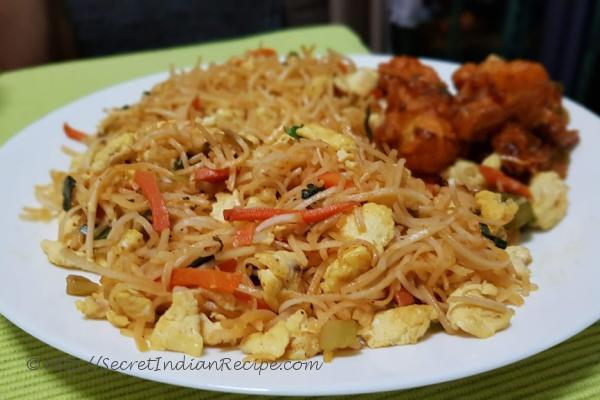 Ingredients:
Hakka Noodles Packet 1
Carrots 2
Spring Onions 1 bunch (About 5 Onion pods & greens)
Salt to taste
Chili Vinegar 2 tbsp
Tomato ketchup 4 tbsp
Light Soya sauce 4 Tbsp
Dark Soya sauce (optional) 1 Tsp
Green chilies 3 slit into half
Garlic 3-4 cloves minced
Vegetable oil 5 tbsp
3 Eggs
Black pepper 1 tsp
Onion 2 thinly sliced
Capsicum or bell pepper 1 sliced
Directions:
Boil water and cook the noodles 98% leave a bit of bite inthem as they will cook further in the work. When cooked, remove and set aside. You can also keep the cooked noodles in fridge while you prepare the rest.
In a pan take 1 tbsp oil and add whisked eggs, pinch of salt and 3/4 tsp of pepper powder. Scramble the eggs fine.. let the eggs cook completely. Remove from heat and set aside
In a wok take oil, allow it to heat well. Add thinly sliced onions. Followed by chopped spring onions (onions only not the greens)
Stir fry for a min, and add minced garlic, chilies, sliced carrots and capsicum. Give it a quick mix.
While the veggies cook, quickly take a bowl/glass and mix all the sauces and vinegar. Add the sauce mix to the vegetables and stir fry for 2-3 mins till the vinegar smell has completely gone away
Now add a bit of salt to taste (remember the soya sauce is salty so add little salt )
Add the boiled noodles to the wok and stir fry on high heat. Let the noodles char one side. Add spring onion greens
Now add the pre cooked scrambled eggs and mix well
Cook for 10 mins on high heat, keep turning the noodles.
Check for salt (adjust if required) If the noodles are too salty add some dark soya sauce to balance it out with its sweetness.
Serve hot.
Other Indian Recipes that you may Like !