Egg-less Butter-less Carrot Muffins
These Carrot muffins are eggless , butterless and to make it a healthier affair , I have replaced the all purpose flour with whole wheat flour and added chopped almonds to them. Have used curd as an egg substitute in this recipe.The muffins turned out soft and moist and taste was awesome. The recipe is quick , easy to follow and requires minimal ingredients that are easily available in a kitchen pantry. The muffins serve great as tea time snacks and can be packed in kids snacks box.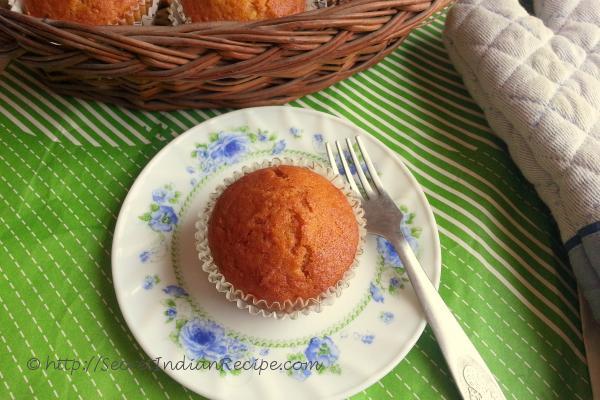 Ingredients:
1 1/4 cup Whole Wheat Flour
1 cup Curd
3/4 cup grated Carrots
3/4 cup granulated Sugar
1/4 cup Oil ( I have used Sunflower)
3 tbsp chopped Almonds
1 tsp Vanilla extract
1/2 tsp Baking powder
1/2 tsp Baking soda
Pinch Of salt
Directions:
Wash, peel and grate the carrot and keep aside. Grease or line the muffin tray . Preheat the oven at 180 degree Celsius for 10 minutes.
Sift whole wheat flour, baking soda , baking powder and salt together.
In a bowl take curd and add sugar to it. Whisk until the sugar dissolves. To it add oil and mix well.
Next add the sifted dry ingredients little by little too the wet ingredients and gently fold. Add grated Carrot to this batter and mix lightly. Do not over beat.
Mix the chopped Almonds with some dry flour and add it to the batter. In the end add the Vanilla extract. Give it a quick stir.
Fill in the muffin liners to 3/4 max. Tap the muffin tray gently 2-3 times to remove the trapped air bubbles.
Bake the muffins in the preheated oven for 18-20 minutes or until the tester toothpick comes out clean . If tooth pick is sticky , bake for another 2-3 minutes. Once done , carefully remove the muffins and allow them to cool on the wire rack.
Enjoy the soft and moist Carrot cupcakes with your loved ones !
Footnotes:
You can replace grated carrots with 1 cup of fresh Pineapple chunks in the same recipe and enjoy Pineapple muffins .