Egg-less Strawberry Muffins With Oatmeal And Whole Wheat Flour
Strawberry Muffins are deliciously sweet , moist and fruity delights that are just perfect for a refreshing morning breakfast or an evening snacks on a Valentine Day . Loaded with fresh Strawberry flavors, these muffins can lift up your mood and go well with a cup of coffee.
Made with healthy goodness of fresh fruit, whole wheat flour and oatmeal , these muffins are egg-less and butter-less and are ready within 30 minutes. So enjoy this guilt free treats with your loved ones this Valentine !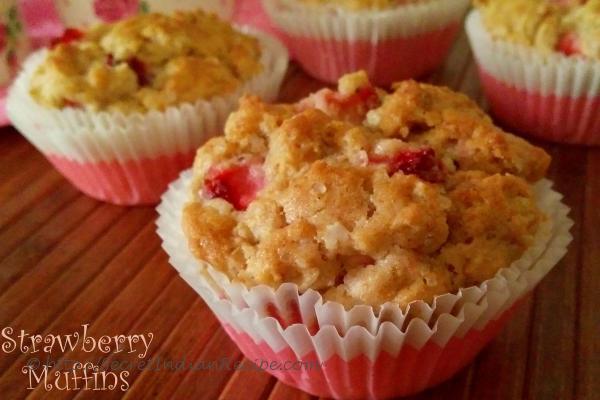 Ingredients:
1 cup fresh Strawberry (diced)
1 cup Whole Wheat flour
1/2 cup Rolled Oats
1/2 cup Yogurt
1/4 cup Oil
1/2 cup Sugar (use 1/3 cup if strawberries are sweet)
1 teaspoon Baking powder
1 teaspoon Vanilla essence
1/4 teaspoon Baking soda
Pinch of salt
Directions:
Preheat the oven at 180 degree Celsius. Line the muffin tray with liners. Add 1 tablespoon of sugar to the fresh strawberry chunks. Mix well and keep aside.
Sift the whole wheat flour, baking powder , baking soda and salt in a large bowl. Add oats to it.
In another bowl take yogurt. Add remaining sugar to it and using a whisker stir it until the sugar dissolves.
Add oil and vanilla essence to it and stir well.
Add the dry ingredients to the wet ones and mix well .
Lastly add the strawberry chunks and blend with the batter.
Spoon batter into the muffin liners about 3/4 full . Bake them in a preheated oven at 180 degree Celsius for 20 minutes or until the tester skewer comes out clean.
Allow the muffins to cool down on a wire rack for 10 minutes before serving. Enjoy the delicious fruity treats with your loved ones !
Footnotes:
Though i have used fresh Strawberries in the recipe, the muffins can be made using frozen Strawberries as well.
Can use Blueberries or Raisins also along with strawberries in this recipe.
The muffins can be refrigerated for 2-3 days in air tight container, provided they last until then :)