Egg Paratha
Egg Paratha is a tea-time snack which is adored by all and sundry non-vegetarians. The preparation of this snack is very easy and fast and a trump card in the hands of both housewives and working women to appease the stomach of their loved ones.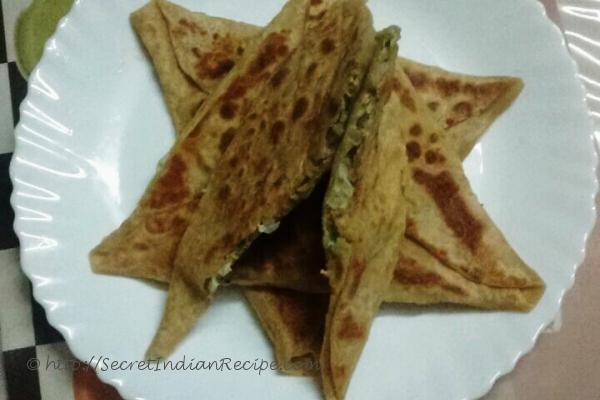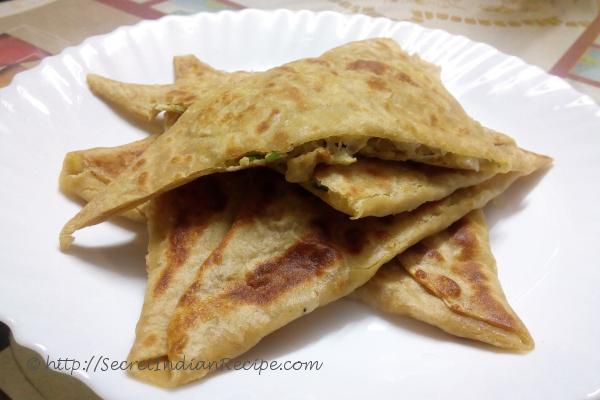 Ingredients:
1/2 cup wheat flour
1/2 cup Maida
2 Eggs
1 tsp Milk
1 Onion
2 Green chillies
1 tbsp Spring Onion (Minced)
1 tbsp Tomato (Minced)
1/2 tsp Ginger (Grated)
1 tbsp Carrot (Grated)
Oil for frying Parathas
1/2 tsp Pepper powder
Salt as per taste
Directions:
In a bowl add Wheat flour, Maida and Salt as per taste.
Knead the flour by adding water and make a soft dough and keep aside.
Beat the eggs with milk and add salt and pepper powder along with minced vegetables.
Take small parts of kneaded flour and roll it to make a thin roti.
Heat the Tawa and put the roti on it, add little oil and roll over on slow flame. Put the egg mixture in the center of the roti and fold it in triangular shape or just like parathas.
Add oil and fry till golden brown.
Serve hot with ketchup or schezwan chutney, with dum aloo it also tastes really good.
Other Indian Recipes that you may Like !