Egg Sandwich
Egg sandwich is a quick recipe suitable for breakfast or brunch. It is high in protein and carbohydtrate, which is needed for a healthy start of the day.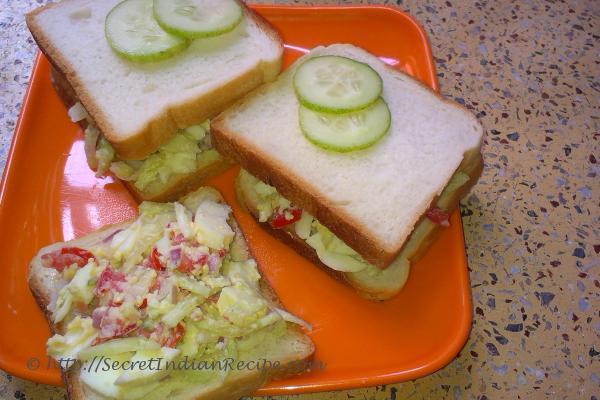 Ingredients:
Bread 8 pieces
Egg 4 eggs (boiled and grated)
Cucumber ½ cup (finely chopped)
Tomato ½ cup (finely chopped)
Onion 2 tablespoon (finely chopped)
Black salt ½ tablespoon
Butter 2-3 tablespoon
Green chillies 1 (finely chopped)
Lettuce 4 leaves (optional)
Directions:
Take a bowl and mix grated eggs, chopped onion, cucumber, tomato, green chilli and black salt.
Afterwards take one bread and apply some butter on one side. Then place a lettuce leaf followed by egg mixture.Put another bread on the top.
Egg sandwich is ready. Serve it with potato chips.
Other Indian Recipes that you may Like !