Egg Tarka
Tarka literally means Tempering. This is basically a process by which the aroma and flavour of spices and herbs is imbided in the oil which, when mixed with the dish makes it delicious. The most common usage is Dal tarka. It is quite popular in Northern India like Uttarpradesh and Punjab. Dal tarka is primarly a dish of mixed pulses and a tarka of tomatoes, coriander leaves and spices are added to make it delicious.Egg Tarka is an addition of egg in the same recipe to sooth the nonvegetarian appetite as well as enhance its protein value.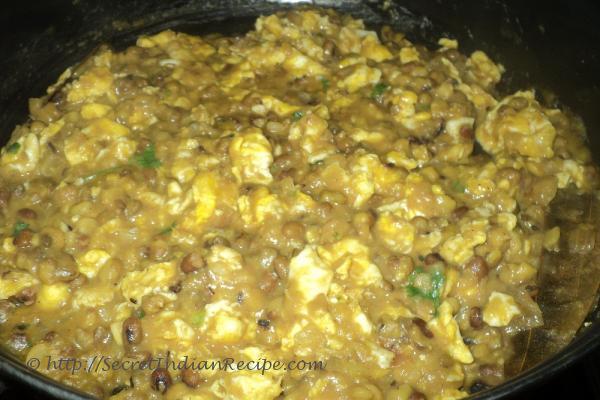 Ingredients:
Channa dal (Bengal gram lentil) 50 grams (2 ounce)
Gotta mong (whole mung lentil) 50 grams (2 ounce)
Tej patta (bay leaf) 1 piece
Ginger ½ tablespoon (finely chopped)
Garlic ½ tablespoon (finely chopped)
Onion 1 piece (finely chopped)
Green chillies 3-4 piece (halved)
Tomatoes I piece (quatered)
Tarka Masala 2 tablespoon
Ghee 2 tablespoon
Refined oil 2 tablespoon
Green coriander leaves 2 tablespoon (finely chopped)
Salt 1 tablespoon
Egg 2 pieces
Directions:
First boil the Channa dal and gotta moong and keep it aside.
In a pan or karahi pour 1 tablespoon of refined oil and Ghee. Once oil is heated, add the bay leaf followed by onion, ginger, garlic and green chillies. Saute till the onion become light brown.
Add the tomatoes, tarka masala and fry for 2-3 mintues. Afterwards add the boiled lentils and salt. Mix it well and put the lid on. Cook on low flame for 5 mintues.
In another pan put refined oil and fry the egg.
Finally pour it over the dal tarka. Mix well and garnish with coriander leaves. Serve with Chappaties or rice.