Eggless Mango Mousse Cake
A very easy And delicious recepi that can be made using mangoes for our loved ones Birthday or any occasion.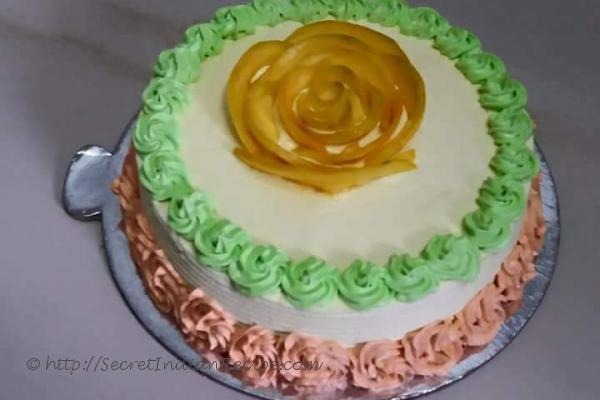 Ingredients:
1.5 cup maida
1 cup Yogurt
3/4 cup Sugar Powdered
1/2 tsp baking soda
1 1/4 tsp baking powder
1/2 cup butter
1 tsp mango essence
Directions:
#EgglessMangoMousseCake Method Preheat oven to 180 C . Grease 8' pan with butter. Beat Yogurt well.
Add Sugar. Add baking powder and soda. Beat 5 minutes.
Add butter and essence. Mix well. Sift maida into it.
Mix everything gently and quickly. Pour in cake tin. Bake it for 30 minutes.
Keep checking in between. For icing. Cut cake into 3 slice. Add sugar syrup. Now on board place a single slice. Add whipped cream. Top with mango pieces Similarly repeat same for 3 layers.
Mango Mousse. To 1 cup of whipping cream add 1 tsp of mango essence and 1/2cup mango Ras. Beat till soft peaks are reached. Decorate it with your own ideas.
Footnotes:
Baking and Icing is an art.. The More you practice, the More Magical your hand will become.