Eggless Plum Cake Recipe
Eggless Plum Cake Recipe - A light and soft cake made with fresh plums. an eggless and dairy free recipe.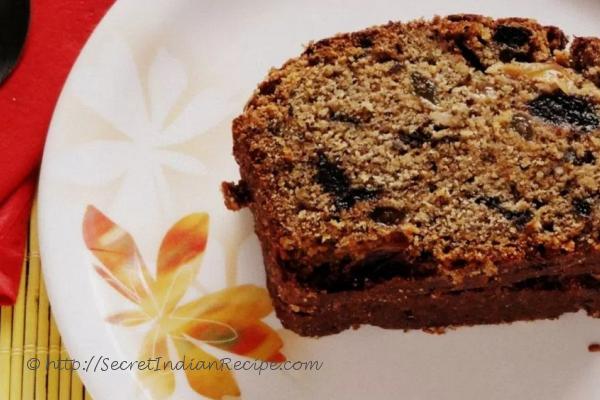 Ingredients:
1 cup All purpose flour/ Maida
½ cup Whole wheat flour / Atta
1 teaspoon vanilla powder OR 1 vanilla extract
2 to 3 Plums - chopped finely
cup ¼ or ½chopped Cashews / Kaju
¼teaspoon Cinnamon powder /Dalchini powder
1 pinch to 2of grated Nutmeg or nutmeg powder/ Jaiphal powder
½cup Dairy milk or Soy milk
1.5 tablespoon Apple cider vinegar or White vinegar
½teaspoon Baking soda
½teaspoon Baking powder
¾cup or 1 organic Cane sugar or golden sugar or powdered sugar - see notes below
⅔cup Oil or melted Butter
Directions:
Grease a cake round tin or cake loaf pan with oil or butter.
Preheat your oven to 170 degrees C.
Sieve the whole wheat flour, all purpose flour, cinnamon powder and grated nutmeg along with baking powder.
Add the oil or melted butter and mix gently. Add the sugar and mix.
Now add the chopped plums and cashews. Fold these gently in the cake batter.
Add apple cider to soy milk and later add baking soda to this mixture. Stir gently and add this frothy bubbly mixture to the cake batter.
Add the vanilla extract or vanilla powder. Fold quickly.
Pour the cake batter in the greased cake pan. Bake at 170 degrees C for 35-40 minutes.
When the plum cake becomes warm or cools, remove from the cake pan. Serve eggless plum cake warm with tea or coffee.
Footnotes:
Instead of soy milk you can use milk.
Instead of oil you can use butter.
Some more dry fruits like raisins, apricots, walnuts, almonds or dry fruits of your choice can be added to the cake.
The 3/4th cup sugar makes the cake just sweet. but not sweet enough for a cake. add 1 cup sugar to get the right amount of sweetness.
If the top of the cake browns quickly, then covers the top with butter paper or aluminium foil.