Eggless Ragi Chocolate Cake
Millet based dishes were very popular in our parent's childhood. They have become cool again ! Millets are now one of the common components of a healthy diet. Lot of chefs are promoting them. I read about millets and got some information from elders in my family. I got some flour from India during my vacation planning to experiment. Recently, for a birthday cake, I decided to try it out and here it is..Everyone loved it !
I found out from a blog that using flax-seed helps to add egg-like binding. To overcome ragi taste I used chocolate and almond. In the spirit of healthy dessert, I used jaggery instead of sugar. I learnt that delicious "vegan" "glutten free" cake can be made without the most commonly used ingredients like all purpose flour, butter etc. I used a crochet table cloth with sugar dusting to decorate the cake. Neat !
Go ahead, enjoy the healthy dessert. Share your creative enhancements to this recipe or other culinary experiences. Thank you. Enjoy.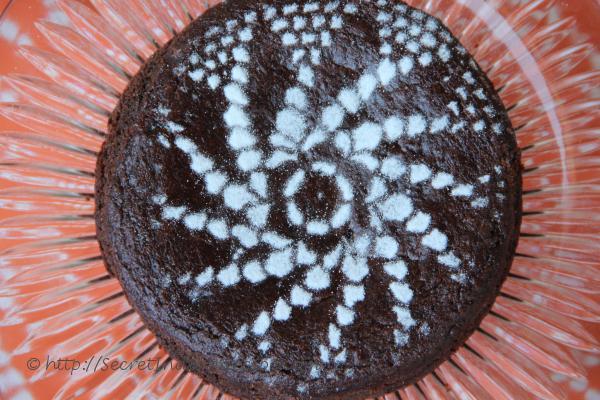 Ingredients:
Ragi flour / Red millet flour – half cup and three tbsp
Grated jaggery – half cup
Almond flour – one-fourth cup
Cooking oil – One-fourth cup
Grounded flax-seed – one tbsp
Coco powder – two tbsp
Salt – a pinch
Water – half cup + less than three fourth cup luck warm water
Vanilla extract – one tsp
Baking powder – three fourth tsp
Baking soda – one-fourth tsp
Directions:
Preheat the oven to 350 degree F. Grease the baking pan (I used round pan) and apply little ghee and then use parchment or wax paper to cover the bottom and sides of the pan. Keep it aside. In a wide pan, add two tbsp ragi flour, ground flax-seed flour, cocoa powder and water(half cup). Mix well without any lumps. Turn on the stove and cook until it thickens. Keep stirring. (cook on a low flame) Transfer the mixture into a mixing bowl and let it cool until its luke warm. Add remaining ragi flour, almond flour, oil, salt, vanilla essence, baking powder, baking soda. Mix well. The batter becomes thick so add luke warm water little-by-little to loosen it up. It should have cake batter consistency. Pour into a greased pan and bake for around 20 mins. (exact time depends on the oven) Tip: Insert a toothpick into the cake and if it comes out clean then the cake is ready.