Eggless Vegetable Chesse Omelette
Eggless vegetable chesse omelette is one of the tasty & healthy dish. It doesn't contain eggs so this is special treat for vegetarian people. It is so close to the taste that you will be really surprised.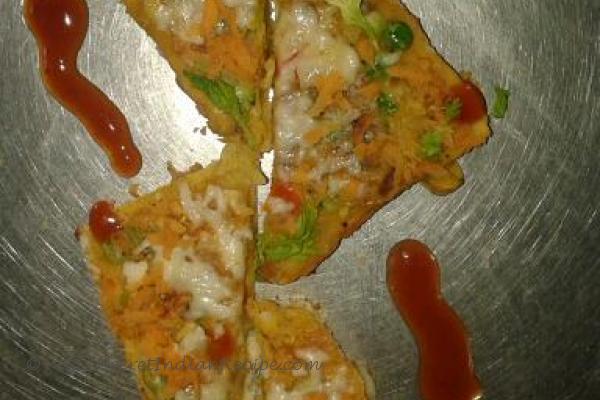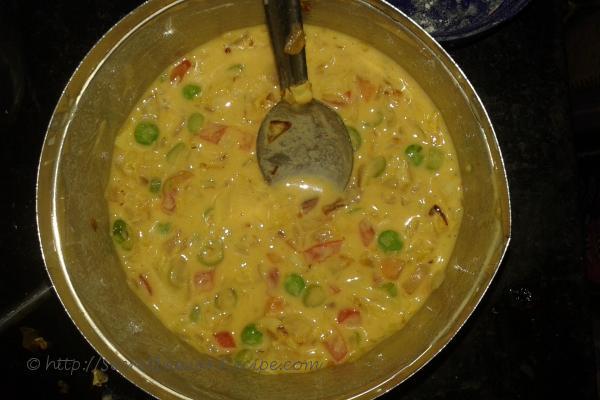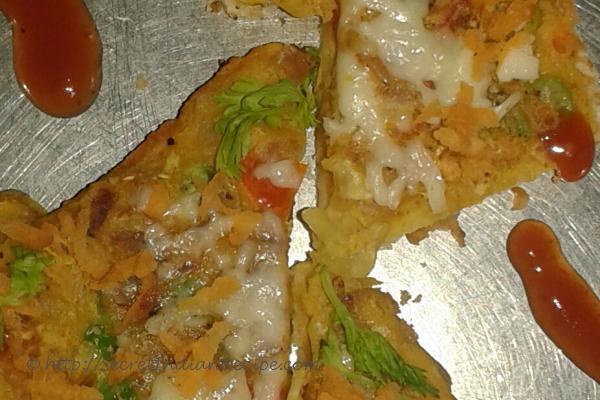 Ingredients:
Bread slices-3
Besan flour ( Gram Flour)-1/2 cup
Veggies-1 cup (here I used carrot , beans, green peas, cabbage, babycorn) finely chopped
Onion-1 chopped
Tomato-1
Chilli powder-1 tsp
Tumeric powder-1/4 tsp
Pepper powder-as needed
Chesse-1 cube
Oil-1 tbsp
Salt-to taste
Directions:
Heat the pan add oil then add chopped onion saute until it becomes translucent.
Add all veggies + little bit of salt and saute.Then add turmeric powder + chilli powder saute till raw smell disappear.
In the mean while take besan flour in a bowl, add some water into it and mix well without lumps. The batter should be of dosa batter consistency.
Add this vegetable mixture into this batter. Add chopped tomato pieces & check the salt also.
Cut the brown sides of the bread (can use with sides also).Heat the tawa put the bread piece pour this besan batter equally & sprinkle some pepper powder. Drizzle few drops of oil from sides and cook for 2 mintues. Then turn other side and cook for another few mins until it is cooked well. Adjust the flame otherwise it will get burn. Switch off the stove. Now spread grated chesse immediately, it will melt slowly.
Then cut the bread into half. Serve hot with ketchup.