Ellu Chutney - Sesame Seeds Chutney
Sesame seeds has cooling effect on our body and it also promotes hair growth as per Siddha Medicine.
It's a rich source of vitamin E so it is good for skin. We prepare this dish often as a side dish for Dosa and idlis.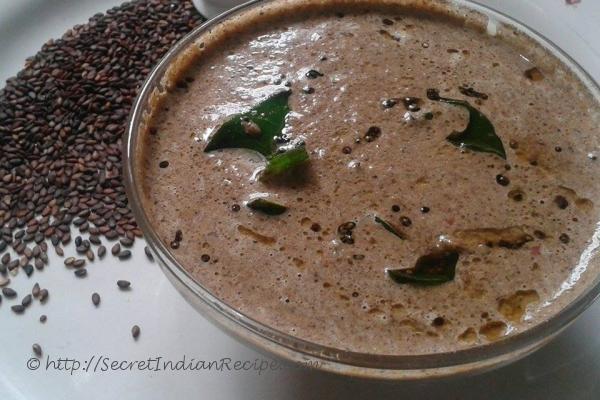 Ingredients:
One full grated coconut
Black Sesame seeds - 200 grams
Mustard seeds - 1 tbsp.
Cumin seeds - 1 tbsp.
Green Chilies - 2
Vegetable oil - 2 tbsp.
Tamarind juice - 2 tbsp. or (Tamarind to the size of its seed)
Garlic pods - 2
Curry leaves -5
Coriander leaves- finely chopped
Salt to taste
Directions:
Grate one full coconut. Place a fry pan on low flame and roast the sesame seeds for a minute or two.
Add the grated coconut along with sesame seeds and roast it for 2 minutes on low flame. Add the roasted coconut and sesame seeds to the mixer.
Also add 2 peeled garlic pods and 2 green chilies, 2 tbsp. of tamarind juice or a pinch of tamarind to the mixture
Add little water, 1 tbsp of salt (salt as per taste) and grind it to a fine paste.
Place a pan to season the grounded chutney. Pour 2 tbsp. of vegetable oil, once oil is hot put mustard seeds to splutter and add cumin seeds.
Then add curry leaves and pour the grounded chutney into the pan and remove the pan from the flame sprinkle finely chopped coriander leaves for garnish
Serve it hot with idlis, dosa, rotis, bread, or naan.
Footnotes:
While seasoning we need to be fast and careful so we don't burn the seasoning.