Mango Infused "enduri Pitha" (traditional Steam Cake With Mango)
#MyMangoRecipe "Enduri Pitha" is a steam cake traditionally prepared in Odisha. I have taken this dish to a level up by infusing fresh mango pulp in it.The fresh creamy pulp in each bite make it more delicious. These are steamed using turmeric leaves or banana leaves.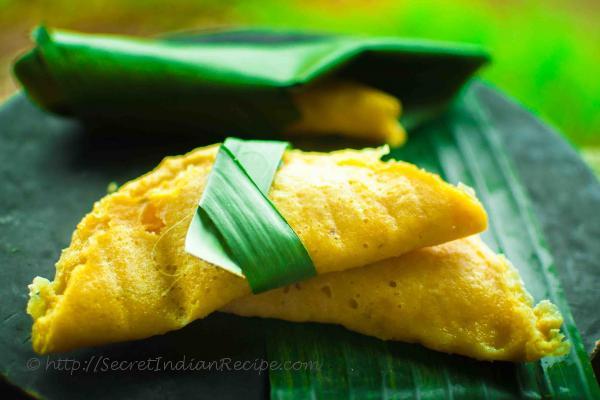 Ingredients:
Rice flour - 4 cup
Ripe Mango pulp -2 cup
Ripe Mango thin slices cut - 1 cup
Salt - 1/2 tsp
Baking Soda - 1/2 tsp
Fennel seed - 2 tsp
Coconut grated -1 cup
Sugar (opt) as per taste
Clarified butter/Ghee
Banana leaves
Directions:
Mix rice flour, mango pulp, baking soda and salt. Keep this mixture for fermentation for at least 4 hour .Add sugar if you want more sweetness.
Once the mixture is fermented add grated coconut, fennel and mix well.
Cut banana leaves into rectangular sizes (more to 8*10 inch size).
Take one sheet and put 1/4 tsp ghee and spread well with finger tips.
Take 4 to 5 tbsp batter and place in the middle.
Add few mango slices in the center on top of batter and fold the leaf at center .
In a steamer cook this for around 10 minute.Let it cool a bit and serve hot or cold.
It's best to Unwrap the leaves just before you serve them, this alows the fragrance of banana leaf to integrate with the pitha