Erachi Ularthiyathu (beef Stir Fry)
This is a typical Kerala dish in every non vegetarian household. The abundance of coconut makes its inevitable presence in every recipe of ours. At times I just have the beef flavoured coconut strips from this curry and I love coconut when it appears in this form. Though I would not recommend it for rotis, I have friends who don't mind having this curry with rotis.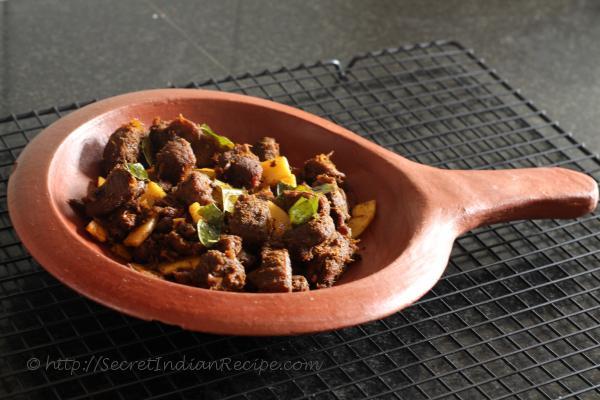 Ingredients:
Beef- 250 g
Turmeric powder- 1 tsp
Chili powder- 2 tsp
Coriander powder- 1 tbsp
Garam masala- 2 tsp
Salt- to taste
Coconut strips- 1/2 cup
Shallots- 10
Garlic cloves- 8
Curry leaves- 1 sprig
Coconut oil- 4 tbsp
Directions:
Roast the spice powders over a low flame.
Marinate the beef with the roasted powders and salt and pressure cook up to four whistles.
Crush the shallots and garlic in a mortar and pestle.
Heat oil in a pan. Add the curry leaves first.
Now add the crushed garlic and shallots and saute till the brown. Now add the coconut strips and saute for 5 minutes.
Add the cooked beef and stir fry till the beef gets dry and tender.
Add a dash of garam masala towards the end before taking the curry off flame. Serve with rice.
Other Indian Recipes that you may Like !