Ethapazham Achar (dates Pickle)
This is one of my favourite pickle. It's different from the ordinary pickles in such a way that it is spicy, sweet and sour. It goes as best combination with curd rice, white rice or fried rice.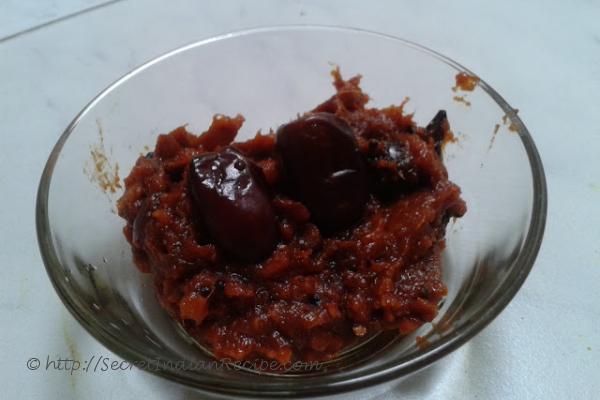 Ingredients:
Dates -10, chopped into small pieces
Ginger-garlic paste- 2 tbsp
Red chilli powder- 3 tsp
Asafoetida powder- 1/4 tsp
Fenugreek powder-1/4 tsp
Dried red chillies- 3
Sesame oil- 3 tbsp
Vinegar- 5 tbsp
Mustard seeds-1/2 tsp
Salt- as required
Directions:
Heat the gingelly oil in a pan and add mustard seeds
When the mustard seeds start spluttering, add dried red chillies and mix well
Now, add the ginger garlic paste and stir well till it turns golden brown in colour
Next, add the chopped date's pieces and mix well
Add the red chilli powder, fenugreek powder, Asafoetida powder, salt and vinegar and heat all the contents well
When the vinegar gets boiled well, switch off the gas and remove from flame
When cooled well, transfer the pickle to air tight glass container and can be stored for 3-4 months.
Footnotes:
The air tight containers for storing the pickle should not contain water content. Otherwise, the pickle may get easily damaged.