Ethapazham Ghee Roast (nendran Banana Ghee Roast)
Ethappazham or Nendra pazham ,is a favorite of the Keralites. We have it fried, steamed, dried and raw, in curries, in the form of puddings, jams, halwa and the famous chips. This recipe is something easy. It is an ideal snack for toddlers as well as elders. These bananas are believed to help in weight gain therefore advised for kids and those who need to gain weight. They are definitely addictive once you get used to their flavor.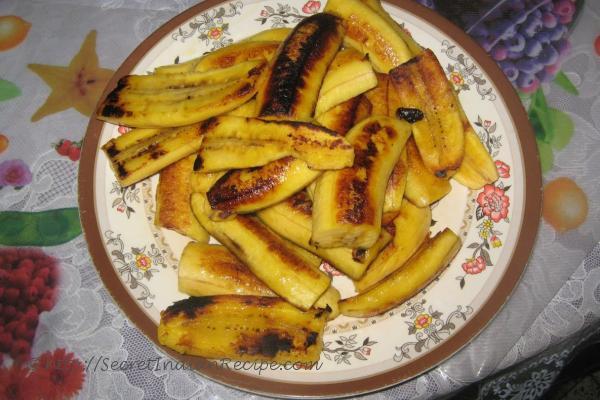 Ingredients:
Nendran bananas- 4
Sugar- 4 tbsp
Green Cardamom powder- 1/2 tsp
Ghee- 4 tbsp
Directions:
Ensure that the bananas are ripe or over ripe because at times these bananas look ripe from out but would be hard in the centre.
Wash the bananas and peel them. Slice them into long pieces.
Powder the sugar and cardamom to a fine powder.
Heat a stone tawa and add ghee to it. Now grill the bananas on the stone tawa.
Sprinkle the sugar- cardamom powder when you flip the bananas over to the other side this will caramelize them giving them a glaze.
Serve these bananas warm because they do not taste good when cold.
Footnotes:
Adding sugar and cardamom powder is optional.