Fanasachi Bhaaji (raw Jackfruit Veg, Kathal Ki Sabji)
This is a typical sabji mostly found near the coastal regions.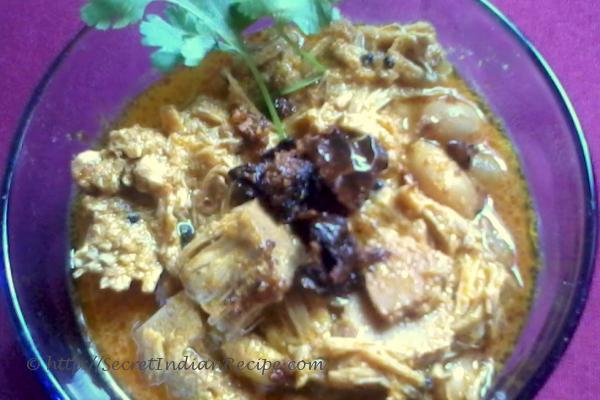 Ingredients:
1 Raw jackfruit (Kathal)
1/2 cup grated coconut
2 tbsp coriander powder
2 tbsp red chilli powder
8-10 garlic pieces
1 tsp turmeric
1/4 cup peanuts
1 small piece of Jaggery
1 tbsp mustard seeds
1 tbsp tamarind
Directions:
Cut the raw jack fruit half. There is a while thread-like piece in the middle, throw that away. Cut out the outer thorny part, cut the rest of the fruit into small pieces. Cook it in the pressure cooker along with peanuts.
Prepare a paste of coconut, turmeric, red chilli powder, coriander powder and tamarind.
Add this mixture to the cooked jack fruit and peanuts. Keep it on a medium flame and let it simmer. Add jaggery to it and mix it well.
On a side, heat oil, add mustard seeds and garlic, and prepare a tadka.
Add this tadka to the sabji, and immediately and close the lid. This will allow the aroma of garlic tadka to spread to the whole sabji.
Footnotes:
Serve with chapati or bhaakari and rice.
While cutting the jack fruit, please keep in mind that you should apply oil to your hands and knife or any cutting material. The fruit secrete sticky substance which also can stick to your hands. Hence always apply oil before cutting the fruit.