Fansachi Bhaji (raw Jackfruit Curry)
#DiwaliRecipe. Jackfruit is not in season, but I was lucky to find a good quality jackfruit in a food mall. This is one of my all time favorite Marathi curries. Fansachi bhi is a maharashtrian recipe packed with flavours.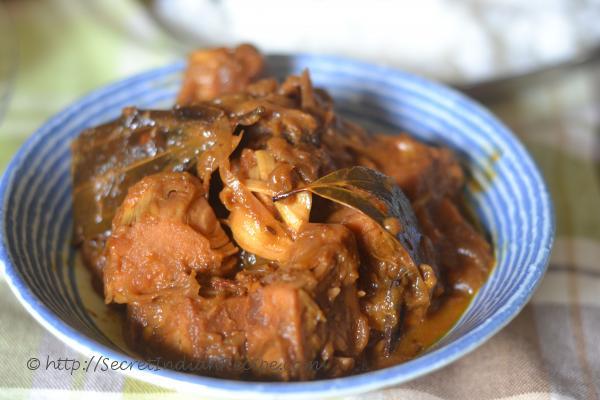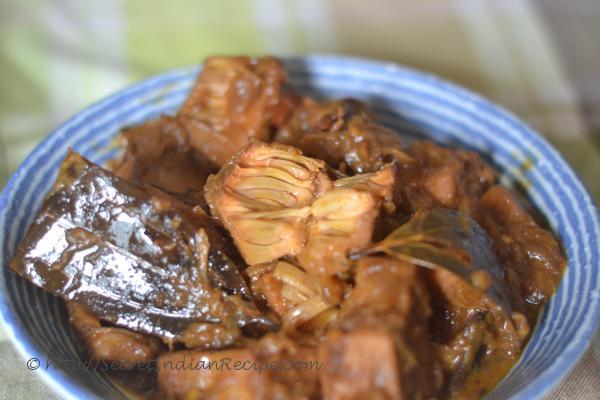 Ingredients:
Raw Jack fruit Cleaned and cubed : 500 gms
Fresh grated Coconut 1/2 cup
Khada masala 10gm each (Cinnamon, Green& Black Cardamon, Cloves, Jeera, Coriander seeds, black pepper)
Onions 3 medium sliced
Mustard seeds 1 tsp
Curry leaves few
Oil 3 tbsp
Salt & Sugar to taste
Ginger Garlic finely chopped 1 tbsp
Turmeric powder 1/2 tsp
Chicken Curry Masala: 2 tsp
Bay leaf 2 nos
Directions:
Place the cubed and cleaned jackfruit pcs in water to avoid de-coloration.
In a non stick pan dry roast fresh coconut along with 2 sliced onions and all khada masalas. Dry roast for 2 -3 mins or till slightly brown.
In a mixer blend the coconut & masala mixture to a smooth paste. Add a little water to aid in smooth blending
In a kadhai, heat oil, add mustard seeds, curry leaves and bay leaves allow them to splutter.
Add Ginger garlic and remaining one sliced onion.
Add pinch of salt and mix well. Add turmeric powder.
Now add the ground paste and give it a good mix. Cook the masala for 2 mins and add salt and sugar as per taste.
Add the chicken curry powder and the jackfruit pcs and mix everything well.
Cover with lid and allow jackfruit to cook for 10 mins on low heat
After 10 mins check the jackfruit for done-ness. If not done let it cook for another few mins.
When done, check for salt and serve with hot rotis.