Fermented Ragi Dosa.
Ragi Dosa is a popular South Karnataka dish.This dosa serve as a healthy breakfast or snack menu and can be enjoyed with chutney or any vegetable curry.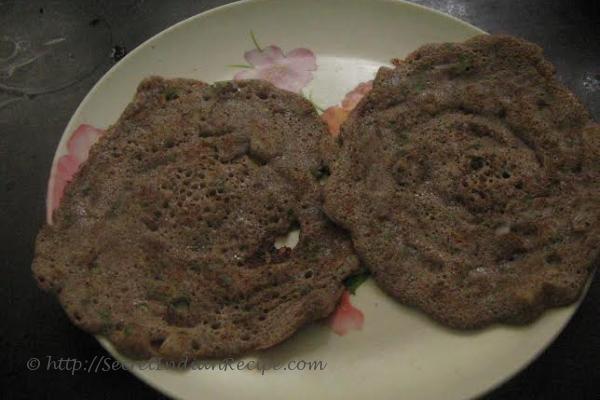 Ingredients:
Ragi flour - 1 cup.
Rice flour- 4 tablespoon
Wheat flour- 4 tablespoon
Chiroti rava - ½ cup.
Urad dal - ¼ cup.
Methi seeds - tablespoon
Moong dal - 1 tablespoon
Chana dal – 1 tablespoon
Onions – finely chopped 2 nos.
Green chillies finely chopped -2 nos.
Coriander leaves finely chopped – 2 tablespoon
Salt to taste.
Refined vegetable oil for frying
Directions:
Wash urad dal,methi seeds,moong dal and chana dal.Soak them in water for 5-6 hours.
Grind all the dals into a fluffy paste.Transfer to a utensil.
Mix ragi flour, rice flour, wheat flour,chiroti rava and salt with water to make a thin pourable batter.add the ground dal paste.Set aside for 30 minutes.
Add onions,coriander leaves,and green chillies to the batter.
Keep the paste covered, for 8-10 hours,for fermentation.The paste will rise after it ferments.
If the paste is too thick,add little water and mix.The ragi dosa batter is ready.
Heat a tawa.Coat the tawa with little oil.
Take a ladle full of ragi dosa batter and pour it on the hot tawa.Now spread this batter on tawa in a round shape and apply oil around dosa and cook another side.
Sprinkle little oil.Flip the dosa.
Cook till both sides turn to golden brown.Crispy Ragi dosa is ready to eat.
Footnotes:
This dosa is very rich in calcium its excellent for women as well as for children.