Filter Coffee Choco Peda
#DiwaliRecipe or #DiwaliRegionalRecipe
"Filter Coffee Choco Peda" is a quick and easy microwave peda made out of milk powder, condensed milk, first degree filter coffee decoction and Cocoa powder.
Make sure to use the first degree filter coffee for this recipe. The second and third degree does not give the actual taste. Prefer to choose a coffee which has full body, citrus acidity the brew has floral aroma & malt like overtone. You can mix up with black coffee powder too. The best choice is to make 50 - 50 of malt and black coffee based coffee powders. However if you do not have these flavors, just go with your regular filter coffee. Its simply amazing with any filter coffee variety.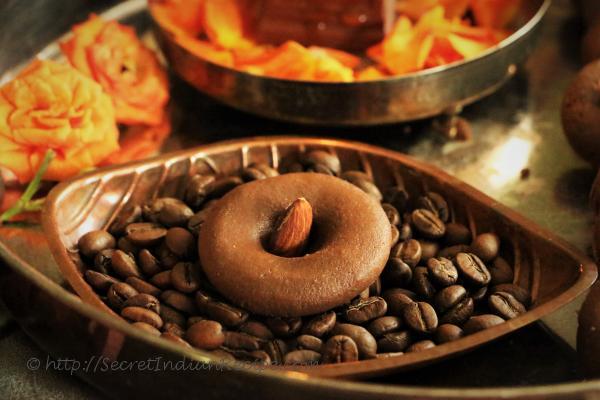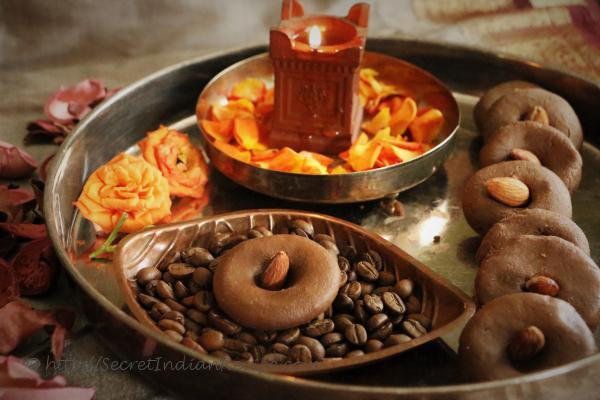 Ingredients:
Filter Coffee Powder – 5 tblsp
Water for Filter Coffee – 75 ml
Water – 30 ml
Cocoa Powder – 1 tblsp
Milk Powder – 1 cup
Condensed Milk – ½ cup
Ghee – 5 tblsp + as needed to rub in palms
Roasted Almonds - 12
Directions:
Prepare the coffee decoction in a South Indian traditional filter by adding 5 tblsp of coffee powder in a coffee filter. Press the powder and add hot water. Let it brew. It would take around 15 minutes roughly.
Take a microwave safe bowl, add 4 tblsp ghee, milk powder and condensed milk.
Mix well with a spoon. The entire milk powder must be combined well with the condensed milk and ghee.
Microwave for 1 minute. Take out and mix well.
Add cocoa powder, 1 tblsp 1st degree filter coffee decoction and 30 ml of water.
Microwave for 1 minute. When you take out, it would have doubled up. Stir and mix well. Check the taste. Add coffee decoction if you want it to be stronger.
Reheat again for 2 more times. Take out at 1 minute intervals and stir well. The peda mix will come up every time but it will not be double like the first time.
At the end of 4th minute, take out and add 1 tblsp of ghee and mix well.
Microwave for 1 more minute and take out. This time the peda mix will not come out. However it would still be soft. Mix well and allow it to cool to a temperature which you can handle to make peda's. Roughly 6 to 10 minutes.
Apply ghee in your palms . Shape and roll it like a peda.
Stuff each peda with a roasted almond.
Footnotes:
a. End of 2 minutes is the right time to check the taste and adjust. 
b. Do not microwave when you find it hard to stir and mix. (Eg: after 4 minutes if you find hard to stir do not microwave more). 
c. Microwave time varies based on quantity.
d. Preparation time mentioned includes, preparation time for coffee decoction, preparation time for the peda, cooling time before moulding the peda and the actual moulding time.
e. Yields 12 pieces .