Finger Millet Peanut Rolls
My contribution towards Nutritional #IndianDietRecipe . This traditional recipe is made in Andhra Pradesh. My mother prepares it at home.
It has various health benefits as well. The cooking technique used is Steaming, which is an add-on.
Finger Millet has higher amounts of dietary fibre. The peanuts are good source of proteins, low in carbs and are excellent sources of vitamins and minerals. The jaggery lowers the chances of anemia as it is rich in iron, prevents constipation. The Sesame seeds are extremely nutritious. Apart from some of the health benefits mentioned, it is extremely tasty.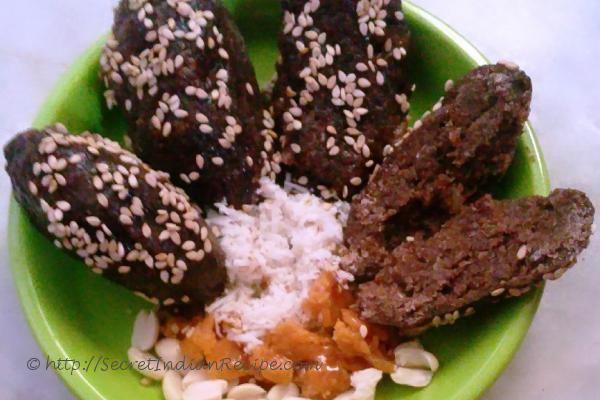 Ingredients:
Ragi flour - 1 cup
Organic Peanuts ( Coarse powder) - 1/2 cup
Organic Grated Jaggery - 1 and 1/2 cup
Grated and Roasted Coconut - 1 cup
Organic Sesame seeds - 1 tablespoon
Grounded Cardamom - 1/2 teaspoon
Water - As required.
Ghee - for applying the Idli trays.
Directions:
Mix all the ingredients and make it into a stiff dough to form rolls. Add water (if required) to prepare the dough. Now the mix should be made into rolls.
Add water in the idli container for steaming. Apply ghee to the idli trays and steam the rolls in the idli container for 15 minutes or until it is cooked properly. You can check it by inserting a toothpick. If it comes out properly then it is steamed evenly.
Let it come to room temperature. Now, garnish it with sesame seeds.
It can be served at room temperature or cold.