Fish And Green Mango Curry
Green tangy mangoes and fish in a coconut gravy - its a party set in heaven. The dish is full of flavours bursting in your mouth! Although this is not a calorie bomb in the real sense of the term, it is so difficult not to binge on this and rice!!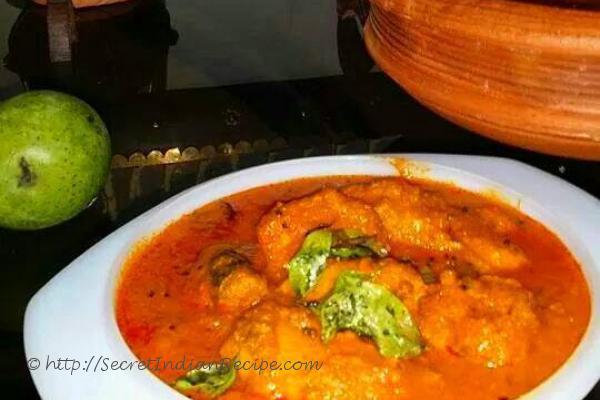 Ingredients:
Fish : 600 gms, cubed (I used king fish, but the same curry can be made with most white fish: It is exceptionally tasty with kingfish and white pomfrets)
shallots: 1 cup, sliced
garlic: 4-5 pods, sliced thin
curry leaves 2 sprigs
mustard seeds: 1 tsp
fenugreek seeds : 1 tsp
green chillies :4-5
chilli powder: 1 tbsp
turmeric powder: 1/2 tsp
coconut grated : 1 cup
2medium sized green mangoes, cubed.
Directions:
Wash the fish and keep it aside. Make a paste of the coconut, chillies, chilli powder and turmeric powder. Set this aside.
In a chatti (if you do not have one, use a kadai), heat upto 2-3 tbsp of coconut oil and temper the mustard seeds. Add the fenugreek seeds, ginger, garlic and shallots in that order. Add curry leaves too and stir till it just starts to be caramel brown. Now add the mangoes. Stir well.
When the mangoes have softened, add the coconut paste and pour in a little water too and adjust the gravy consistency. It should be a thick gravy in the end and the fish will take barely 15-20 minutes to cook; so add the water accordingly. Add the fish pieces and mix it well. Allow it to cook on high flame till the gravy boils. Lower the flame. When the fish has cooked in well, and the gravy is the right consistency, remove from the stove and add a tbsp of coconut oil. Garnish with curry leaves and serve with hot rice.
Other Indian Recipes that you may Like !