Fish Egg Cutlet [tea Time Snack]
This time when my husband went to buy the fish it was already late afternoon.The vendor was short of fish so he gave some fish eggs. Though my husband was skeptical about buying this but the vendor insisted. This is how fish eggs made way to my kitchen . I remember one of my Aunt use to make pakodas[fritters] out of it. But I chose to make it more healthy way & it turned out really tasty.Here is my recipe….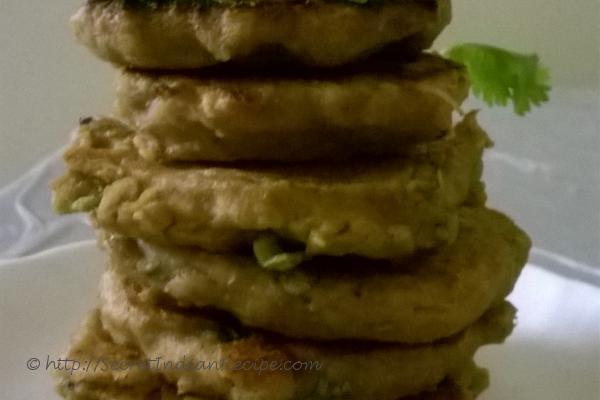 Ingredients:
Fish Eggs : 250g
Rice Flour : 1 tbsp
Gram Flour: 1tbsp
Garlic Paste: 1tsp
Ginger Finally Chopped: 1/4th tsp
Green Chili Finally Chopped : As per taste
Fresh Green Coriander: A handfull
Chat Masala: 1tsp
Lemon Juice:1tsp
Salt to taste
Vegetable Oil 2-3tbsp
Directions:
Wash fish eggs . Remove them from the skin shell & wash them with water. You must use a very fine sieve to wash as they run away with water. Now add all the above ingredients except vegetable oil into the eggs . Mix well.
Heat a nonstick pan or skillet . Sprinkle little vegetable oil on it. With the help of a spoon put little mix on skillet & spread it like a cutlet. You can make 4-5 together depending upon the size of your skillet. Cook from both sides for at least 3-4 min.
Serve hot with your favorite Chutney or Sauce & ofcourse with Tea.
Footnotes:
Be very careful while washing the eggs as they tend to run away with water. Some people keep the skin so can do it as per your choice.
Other Indian Recipes that you may Like !