Fish Fry / Cutlet.
Fish fry is a popular snack recipe in Kolkata. Fish fillets are marinated with spices and are deep fried.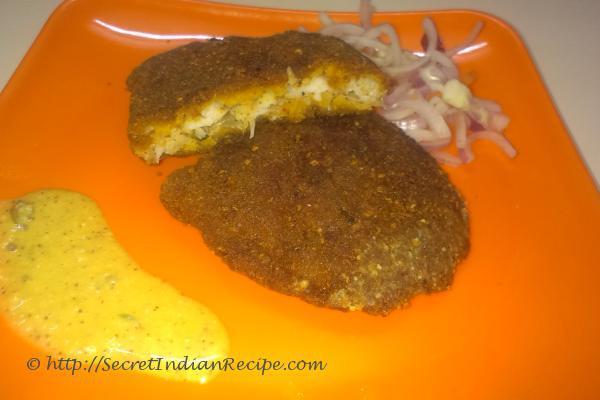 Ingredients:
Fish belly slices – 4 piece
Ginger – garlic paste – 2 tablespoon
Green chilli paste – 1 tablespoon
Turmeric powder – ½ tablespoon
Curd – 1 tablespoon
Green coriander paste – 1 tablespoon
Besan – 4 tablespoon
Bread crumbs – 4 tablespoon
Powdered blacksalt – ¼ tablespoon
Refined oil – for frying
Directions:
In a large bowl mix ginger garlic paste, green chilli paste , coriander paste, curd and ¼ tablespoon of salt and marinate the fish pieces for an hour.
In another bowl `mix besan, turmeric powder, salt and 4-5 tablespoon of water to make a thick batter.
Heat oil in a wide pan, dip each marinated fish in besan batter, toss it over a bed of breadcrumbs and then deep fry the fish. Sprinkle some powdered blacksalt over it and serve hot with salad and kasundi.
Footnotes:
Fish fry is usually made of large fish, so that you can get a larger portion of flesh without the bone.
Other Indian Recipes that you may Like !