Fish Kofta Curry (fish Dumplings In Spicy Sauce)
This is one recipe, which I discovered out of my necessity. Fish is quite healthy for Children and can be given on daily basis. My Son loves fish but he prefers to have the Sea fish than pond fish. Just because it has less bones and so hassle free to eat. In reality pond fish is more healthier. When I was young, I had observed my mother feeding us small pond fish curry where she used to cook the fish in the gravy directly (Usually in Bengal and Bihar fish is fried in oil before cooking in gravy). As a result the fish used to be soft and separating bones from the fish was easier. But I knew my Son is a fussy eater and feeding him small fish is difficult. So I tried making these koftas. If you also have fussy eaters at home, you can try this recipe. Of course avoid the chilies when you are cooking for your children…..they will never have it again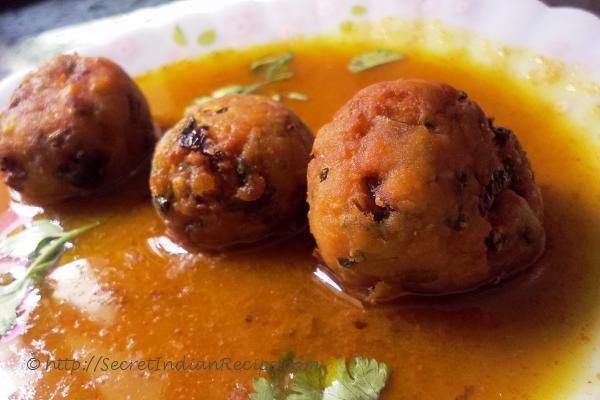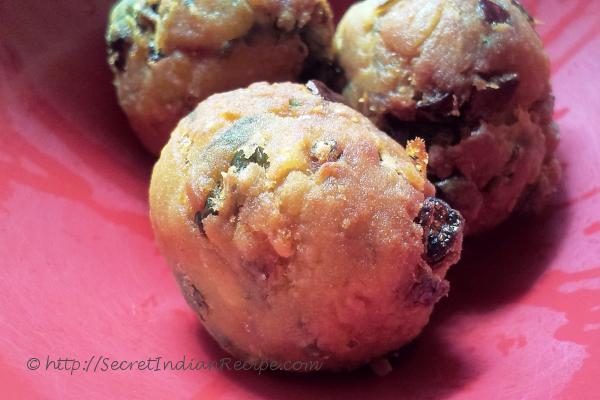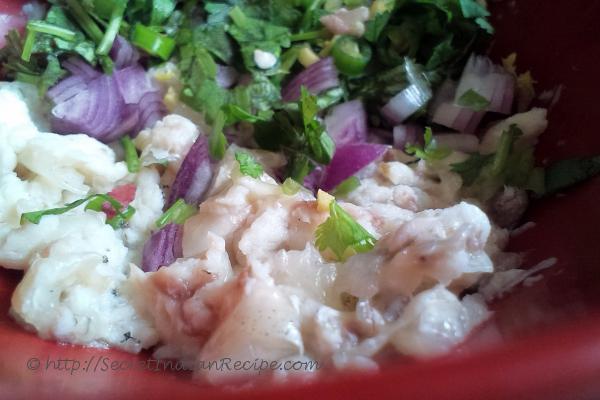 Ingredients:
(For Kofta)
Fish – 150 grams
Onion – 3-4 tablespoon (Chopped)
Green chilies – 2-3 (Chopped)
Ginger – ½ inch piece (Grated)
Green Coriander Leaves – 2-3 tablespoon (Chopped)
Salt to taste
Refined Flour – 4-5 tablespoon for binding
Oil to fry the Koftas
(For Gravy)
Onion – 1 medium sized
Garlic -4-5 pods
Cumin Seeds – 1 tablespoon
Coriander Seeds – ½ tablespoon
Mustard seeds – 1 little less than ½ tablespoon
Red Chili – 1-2 whole.
Turmeric Powder – ½ tablespoon
Salt to taste
Oil – 4 tablespoon
Directions:
To make Koftas, clean the fish thoroughly and then boil them in water for 5-6 mintues. Let it cool.
Once it is cooled, separate the flesh from bones and squeeze to drain water. Presence of water can make binding difficult. Keep it in a bowl. Combine 2 tablespoon Refined flour,chopped Coriander, Green chilies, Onion, Ginger and Salt to taste and mix.
Divide the mixture into equal sized balls and then roll them over refined flour to make Koftas.
Heat 5-6 tablespoon of oil in a pan and fry these Koftas in batches till the surface turns golden brown. Take out the Koftas on a plate and keep aside.
For Curry make a grounded paste of Onion, Garlic, Coriander, Cumin, Whole red chilies and Mustard seeds with little water.
In the remaining oil, in which the koftas were fried, add the grounded Masala paste and Turmeric powder. Saute the masala on low flame till the oil separates.
Now add 1 cup of water and salt to taste and mix. Let the curry bring to a boil. Then put the flame low and let the gravy simmer for 2-3 mintues. Switch off the flame add the Koftas and garnish the gravy with chopped coriander leaves. Serve hot with Chappati or steamed rice.
Other Indian Recipes that you may Like !