Fool Proof Chicken Biryani
Chicken Biryani:
I m guessing, the universal love for biryani comes from the fact that it's, chicken n chawal under one roof! It's complete dish,it can be eaten as a fast food, it tastes awesome and it can be refrigerated for 1-2 days!and it's comparatively 'light' than other non-veg curries and it makes excellent guest-pleaser, Monday -lunch- box item and raid -the -fridge- after -midnight dish!
It can be a little time consuming,but it's well worth it. Follow the recipe word by word and it will work out.
I have made the recipe simple and easy to get at very first time,without compromising the taste,hence-fool proof!
The theory: the basic idea here is aromatics- the better your fragrance of basmati, mint-coriander leaves, roasted masala,better will be your dish.also, a constant temperature while cooking ensures nice biryani!
PS it's the rustic version,but believe me when I say,once you make this..you will love me for this:) serving suggestion: make salad-raita and serve with a glass of iced coke!
As always,thanks for reading this and plz feel free to drop comment/suggestions.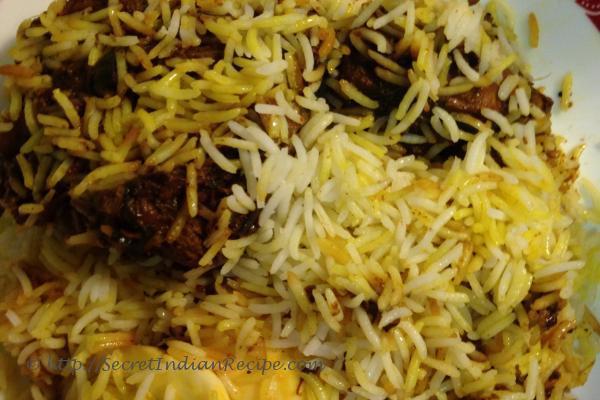 Ingredients:
Chicken- big cut-breast and drumstick -500gms
Basmati Rice-2cups- washed- no need to presoak!
Ghee+ refined oil-1/2cup
Roasted-then-grinded masala- (cinnamon 2",cloves-5-6,star masala-1,Javitri-1,black cardamom-2,green cardamom-4,bay leaves--4,red chilli dry-2,cumin-1tsp,shahi jeera-1tsp optional)
Thick curd-1/2 cup
Thinly sliced onions-3big
Thinly chopped fresh corriander+ mint leaves- 1/2bunch each
Masala Powder (red chilli-1/2tsp,turmeric-1/2,cumin,coriander,black pepper,garam masala) 1/2tsp each in small bowl mixed with lil water
1/2 tsp Biryani Powder masala if you have it's optional-a safety net if you missed out any one masala
Water
Salt-per taste
Rose water-1/2tsp (optional)
2 boiled eggs sliced and 1 large halved and boiled potato (opt)
Ginger-garlic- 4"-8-9pods-all chopped very finely
Green chillies-7-8(or apt)
A flat bottom kadahi,A big rice bowl,a deep pan/cooker
Directions:
Take a deep kadahi/cooker to make chicken: add ghee+refined oil-med high flame>> add green chili>>onion>> add salt >>fry for 15 mins till golden brown>> add gin-garlic chopped>>10mins>> add potato (opt)sauté well without burning!
Add chicken pieces>> fry till it releases water>> then fry till that water evaporates!>> add the roasted-grinded masala>>cook with lid closed stirring in between>> add the dry masala with little water>> cook well till it oozes oil*** (water for rice in another burner )
Take out the excess oil in a bowl, keep aside for later use, now the chicken is almost dry and well cooked,don't let it stick to the bottom>> add leaves(cor+mint)>>cook>> add the beaten curd(by keeping the flame at lowest)cook for 5mins and close
Add rice to boiling water( 3-3.5 cups), cook rice completely ,with a tsp of rose water,drain the excess water>> keep cooked rice closed in a bowl
Place flat bottom pan on a switched 'off' stove,add layer of steaming rice,on top add the big cooked chicken pieces,potato,egg slice>>then add another layer of rice>> pour the extra chicken oil on the top layer rice in a circular jalebi like pattern this will color the rice in yellow and white respectively.close the lid,as all ingredient is cooked you just need to layer them and let them exchange steam n flavors!
Footnotes:
Cook basmati 99%-meaning-it should be cooked but not over cooked and soggy
Do not use the entire chicken gravy in layering-we need chicken pieces more than gravy!
You can layer as per your quantity making sure bottom most and top most layers have rice in it!
If you want you can grind all the Masalas in order to avoid a clove in your bite, but I like it rusty!
Other Indian Recipes that you may Like !