French Fries
French fries are delightful and easy to make recipes. French fried potatoes are batons of deep fried potatoes. It is served hot, either soft or crispy and generally eaten as a part of lunch or dinner or on their own as a snack. It is a common fixture of fast food. French fries are often salted and served with ketchup.
In many countries they are topped instead with other condiments or toppings, including vinegar, mayonnaise or other local specialities.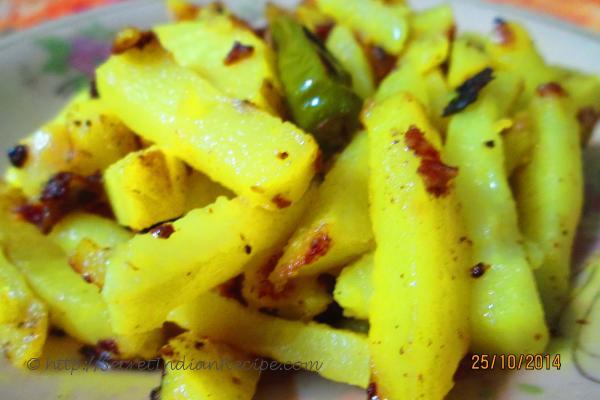 Ingredients:
Potatoes (peeled) - 2 1/2
Flour (any) - 1 cup
Garlic salt - 1 tsp
Onion salt - 1 tsp
Salt - 1 tsp or as per taste
Paprica - 1 tsp
Water - as needed
Vegetable oil for frying
Directions:
Slice potatoes into french fries and place into cold water so they won't turn brown while you prepare the oil.
Heat oil in a large skillet over medium-high heat. While the oil is heating shift the flour, garlic salt, onion salt, salt(regular) and paprica into a large bowl. Gradually stir in enough water so that the mixture can be drizzled from a spoon.
Dip potato strips into batter one at a time and place in the hot oil so they are not touching at first.
Fry until golden brown and crispy. Remove and drain on paper towels. Serve hot.