Fresh Fenugreek Leaves Chicken Curry (methi Chicken Curry)
My inspiration for this dish is South Indian Cuisine (Vendaya Keerai Kozhi Kulambu). Fenugreek or methi leaves is a very nutritious green leafy vegetables and when added with chicken, infuses a special flavor to the food. The goodness of green leafy veggies can also be enjoyed in non-vegetarian dishes also. This is a spicy dish, so adjust the spices quantity as per your taste bud.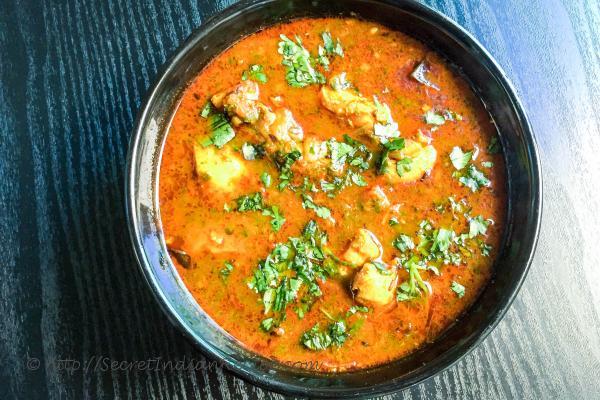 Ingredients:
700 gms Chicken thighs (skin removed) cut into cubes (With bone)
1 cup Onions, finely chopped
2-3 Green Chillies
2 medium sized Roma Tomatoes - finely chopped
2 tbsp Olive oil
2 tsp Mustard Oil
10 - 12 fresh Curry leaves
Salt to taste
1 tsp Turmeric powder
4-6 Garlic cloves
1 1/2 inch Ginger
2 1/2 tsp Madras Curry powder
3 tsp Kashmiri Red chilli powder (to add color)
1/2 tsp Cayenne or Paprika (adjust as per your taste)
1 cup of water (add more if required)
2 tbsp Yogurt - whisk it with a fork smoothly and set aside
2 cups fresh Methi (fenugreek leaves) leaves roughly chopped
2 tsp Garam Masala powder
2 Tbsp or few freshly chopped Coriander leaves for garnish
Directions:
Marinate the chicken with half of turmeric powder, little salt, 4 chopped/grated garlic cloves, 1 inch ginger chopped/grated and mustard oil. Keep the marinated chicken refrigerated for at least 30 minutes.
Heat a large skillet or wok and add oil into it. When the oil is hot, add shahi jeera. Saute on low flame till the seeds stop crackling. Add some curry leaves and saute for 2 minutes.
Add onions, 2 chopped or grated garlic cloves, 1/2 inch chopped or grated ginger and green chillies. Saute till the onions turn brown and translucent.
Add the marinated chicken. Add the remaining turmeric powder and stir fry at medium high flame for 4-5 minutes.
Add chopped tomatoes, cayenne, kashmiri chilli powder, madras curry powder and salt as required. Stir and mix.
Cover with a lid and let it cook on low medium flame for 10 - 15 minutes till the tomatoes turns mushy and chicken becomes tender.
Remove the lid. Add 1 cup water or as required for gravy consistency into the skillet. Stir and mix .Cover with lid and cook on medium heat for 5 minutes
After 5 minutes, remove the lid and lower the flame. Add beaten yogurt, chopped fenugreek leaves and stir lightly. Cook on low flame for 5 minutes.
Just before turning off the heat, add garam masala, salt and chilli powder if required.
Just before turning off the heat, add garam masala, salt and chilli powder if required.