Fresh Fruit Custard And Blueberry Filled Pie
#Valentinesweets..fresh fruits custard pie is beautiful surprise recipe for your love once..this season is full of so many types of fresh fruits so got idea to make surprise for my valentine..this recipe is easy elegant and presentable ..I used strawberry blueberry apple with homemade pie crust..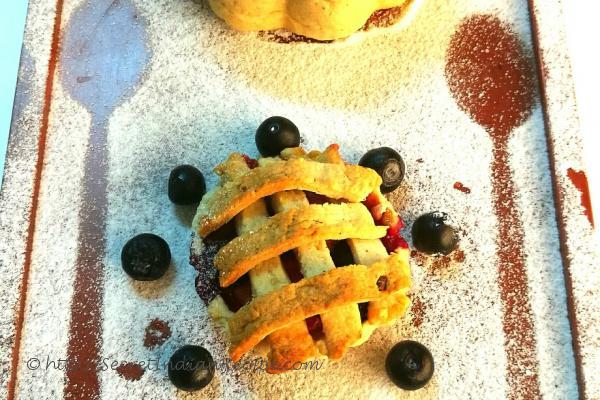 Ingredients:
For pie crust
1 cup all purpose flour
1 pinch of salt
1 pinch of Cinnamon powder
1 tbsp powdered sugar or can use honey or agave syrup.
2 tbsp chilled butter
1 cup chilled milk
For blueberry filling
1 cup washed blueberry
1 tsp Mix fruit jam or any jam of your choice
1 tbsp powdered sugar
1 tsp corn flour
1 pinch of Cinnamon powder
For custard
1 cup or 250 ml milk
1 tbsp custard powder I used mango flavour
1/4cup powdered sugar
1 tsp vanilla essence
For garnish
Fresh fruits kiwi, blueberry, apple, strawberry chopped
Directions:
For pie dough Mix all purpose flour chilled butter sugar cinnamon powder and chilled milk.. and make soft dough..wrap it cling film and keep it in fridge for half an hour..
For custard filling Boil milk add custard powder add vanilla essence add sugar and keep stirring so no lumps occur.. mix well and switch off the flame.let it cool a d keep it in fridge for cooling..
Mix blueberry corn flour apricot or mix fruit jam sugar powder cinnamon powder pinch of salt and mix well..
Now keep out dough from fridge and roll it carefully with rolling pin set it in pie pan with all-sides and prick the pie with fork..and fill it with blue berry filling..
Preheat oven at 180'C or 400'F and bake these pie crust for at least 10-12 minutes or till crust become golden brown in color..
Now pie tart fill with cool mango flavour custard and garnish it your favourite fresh fruits..I garnish it with kiwi, strawberry, apple, blueberry ,and black grapes.. enjoy hot or chilled in fridge..enjoy this beautiful recipe with your love once..
PS.. I made two types of pie so preparation is different.. basically its pastry crust so it wants chilled butter and chilled milk..