Fresh Nariyal Burfi-rosy Coconut Burfi (in Asharfi Shapes )
Fresh Nariyal Burfi or Thengai burfi is one delicious and easy sweet recipe for any occasion or festival. This coconut burfi is very easy to prepare in less time and it taste just delicious. Festival season is in full swing now with Karwa Chauth, Diwali around. This coconut burfi can be very handy recipe The southern most part of India the 2 very popular Diwali sweets are Coconut barfi and Payasum. Coconut barfi is sweet made from condensed milk,khoya or malai and is cut into desired shapes and has a dominant coconut flavor. I have given this traditional burfi a twist of rose flavour. #MyRegionalDiwali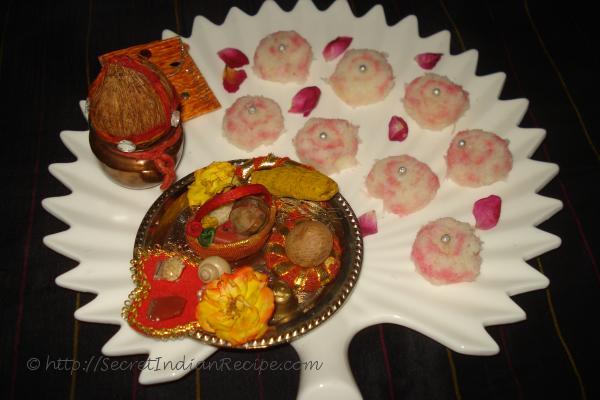 Ingredients:
Scraped fresh Coconut-2cups
Sugar -1cup
Malai ( Fresh Cream)-1cup
Milk -1/2cup
Cardamom powder-1/2tsp
Khoya (Condensed Milk) -1/2cup
Ghee -1tsp
Rose syrup -1tsp
silver balls.-as required
Directions:
Mix sugar, malai and milk well.
Transfer the mixture into a pan and cook, stirring continuously with a spatula. Add cardamom powder and khoya.
Continue cooking for about ten minutes or till the mixture becomes a little dry and begins to leave the sides of the pan.
Grease a tray with ghee. Pour the mixture into it and spread evenly.
Cool and cut with small ring mould dipped in rose syrupor in any desired shapes.
Decorate with silver balls.