Fried Chivda Namkeen (flattened Rice Namkeen)
Chivda is healthy and nutritious namkeen recipe. It is iron-rich and low in calories. It is a perfect snack or starter recipe for weight watchers. The preparation is also quite simple but the result is exciting. I am sure you all love this Chivda Namkeen recipe.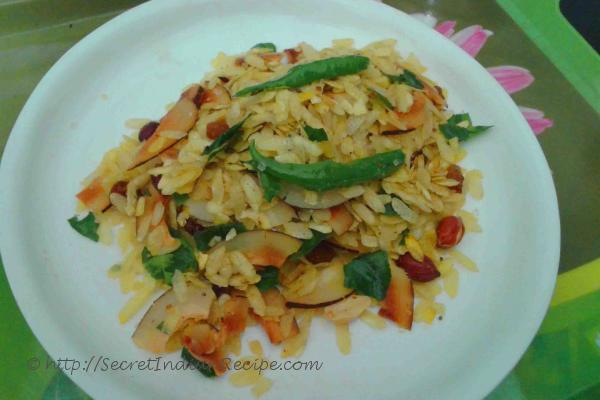 Ingredients:
Chivda - 1 cup (thin flattened rice)
Green chilli – slit lengthwise
Peanuts - ½ cup
Mustard seeds - 1 teaspoon
Hing (Asafoetida) - 1/8 teaspoon
Sugar - 1 teaspoon
Curry Leaves - 4-5 leaves
Raisins - 1 teaspoon
Turmeric Powder - ½ teaspoon
Dry coconut - 2 tablespoon
Refined oil - 1/4 cup
Salt to taste
Directions:
In a non-stick pan, heat 2-3 tablespoon of oil on medium flame and roast the chivda and peanuts till crisp and leave to drain on the absorbent paper.
In the same pan, again add 2 tablespoon of oil, fry the coconut and raisins and keep them aside.
Heat 1 tablespoon oil in the same pan, add mustard seeds, green chilli and the curry leaves and stir.
When the seeds crackle, add hing and turmeric powder and mix well.
Now add roasted chivda and peanuts, coconut, raisins, sugar, salt and sauté for a couple of minutes.
Cool and store in an airtight container.