Fried Potato Bhaji
This is my own creation that I just put together. just thought to deep fry the potatoes instead of boiling them first. I know that frying is not everyone's game but this is just something different.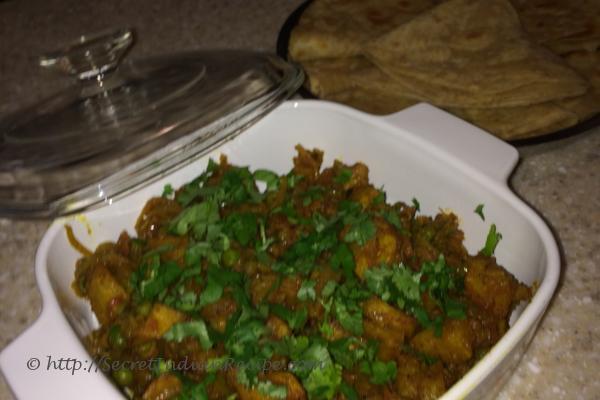 Ingredients:
Potatoes cut into 1" cubes - 4 average size potatoes
Rice flour seasoned with garlic chutney ( use garlic chutney to taste)- ¼ cup
Oil for deep frying
Onion – one thinly sliced in half circles
Ginger garlic paste – 2 tsp.
Tomato – 1 chopped thinly in half circles
Frozen or fresh sweet peas if used – 1/4th cup
Turmeric – 1 tsp.
Red pepper powder to taste
Salt to taste.
Garam masala 1 tsp
Oil for cooking 4 tbsp
Fresh chopped coriander leaves for garnishing
Directions:
Toss the potatoes with the rice flour mix making sure they are coated well.
Deep fry in the oil to golden brown color- do not let burn, drain on absorbent paper to remove excess oil and set aside.
Meanwhile heat the 4 tbsp oil in heavy bottom large fry pan or sauté pan, add onions and fry till lightly browned
Add the ginger garlic paste and stir to release aroma.
Add tomatoes and cook till they are soft.
Add the peas then the turmeric, red pepper powder, salt and the garam masala. Stir and cook for few minutes.
Add the potatoes and stir to mix, cover and simmer for 10 minutes stirring occasionally.
Before serving garnish with chopped fresh coriander leaves and serve with chapatti
Footnotes:
Frying gives the potatoes some crispiness and good appeal.