Fruit Flan
This is a very yummy dessert ...and very easy to make for parties or a kitty !!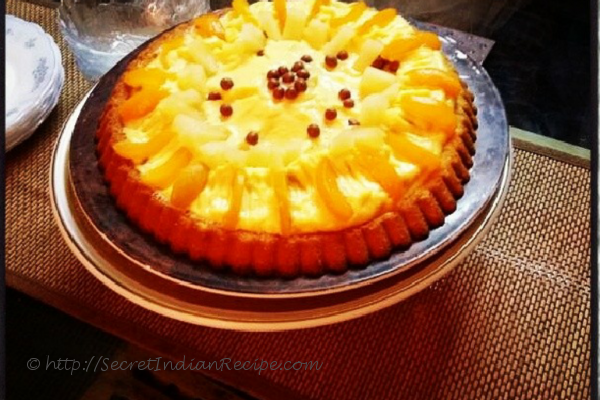 Ingredients:
For Cake: All Purpose Flour 1 cup
Baking Powder 1 and 1/2 tsp
Salt 1/4 tsp
Granulated Sugar 1/2 cup
Butter 1/2 cup
Eggs (room temperature) - 2
Milk - 1/4 cup
For the Filling : Cream Cheese (softened) 8oz
Granulated Sugar - 1/3 cup
Vanilla Essence - 1tsp
Fruit Topping : Variety of fruit fresh or canned
Directions:
For the Cake: * Measure all ingredients into the mixing bowl, mix to moisten. Beat for 2 mins untill smooth. * Pour into greased and floured 9 1/2 flan pan * Bake in oven for about 15 - 20mins untill an inserted wooden toothpick comes out clean. Let it stand for 2-3 mins . Turn out onto plate to cool.
Filling: *Beat all the 4 ingredients together untill smooth, spread in the hollow of flan. Chill to firm a bit. Here in case you dont wanna use cream cheese you can make nice thick custurd instead. To make custard: * take 1 litre of milk in a thick bottomed vessel ...put in sugar as per your taste ( I like my custard nice n sweet ;) ) . * take half cup milk and put in 4 heapful tablespoons of vanilla custard powder and dissolve it and keep. * once the milk starts boiling put in the dissoved custard and keep stirring untill it is nice n thick.
Fruit Topping: * Any fruit of your choice, make a pattern use your creativity or use a pie filling and decorate :)
Footnotes:
In the pic I have put custard and decorated with mango slices n chocolate balls :)