Fruit Khamni
A Gujarati traditional dish of khamni with added taste of juicy fruits served as snacks.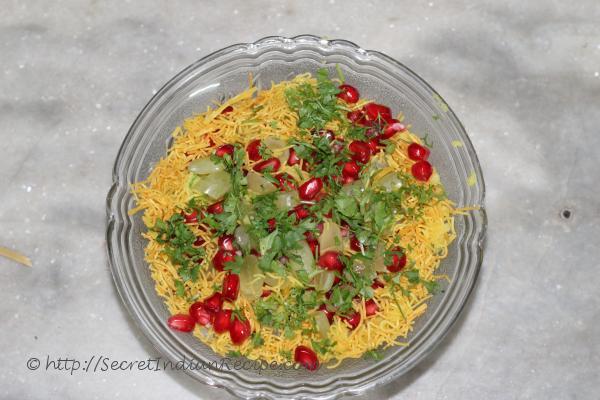 Ingredients:
200 gm Chana dal (split Bengal gram)
4 tbsp Oil
1 small piece Ginger (adrak)
5 to 10 Green chillies
5 tbsp Sugar
1 tbsp Eno salt
1 tsp Cumin seeds (jeera)
1 tsp Black mustard seed
A pinch of Asafoetida (hing)
Salt to taste
1 cup Water
1 cup chopped Coriander (dhania) leaves
chopped Grapes
grated Apple
Thin Sev for garnishing
Directions:
Soak the chana dal for 2-3 hours in warm water.
Drain the water and grind the chana dal coarsly. make sure that the dal is not crushed very fine, add water if needed while grinding.
Grind chillies and ginger and add it in batter. Also add eno salt and salt in batter and mix it well in one direction that is clockwise or anti clockwise.
Pour the batter into a greased thali and shake it clock wise to spread it and make it an even layer.
Steam the batter for 20 minutes.
Once it is steamed let it cool in room temperature. After it is cooled crumble it with your hands.
Heat oil in the non-stick pan, add cumin seeds, black mustard seeds, a pinch of hing, sugar, coriander and water, when water starts boiling and sugar melts add the batter to the oil. sauté it on low-medium heat. (if dal is too dry you can add more oil while sauting)
Serve hot, sprinkle fine thin sev, chopped coriander, pomegranate, chopped grapes and grated apple when serving. (sev gets soggy if you let it sit for a while)