Fruity Gujiyas
A new innovation of fruits filled into gujiyas for a delightful, tasty and healthy recipe.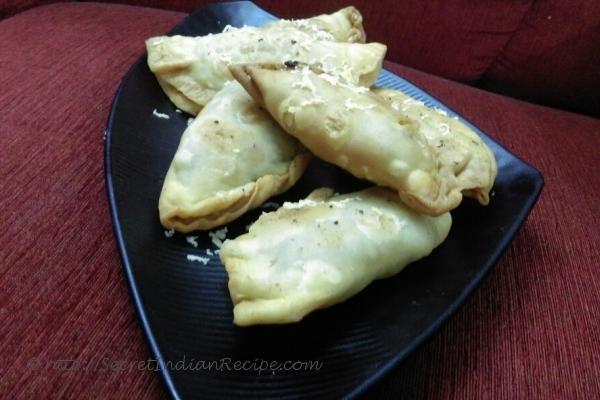 Ingredients:
For Dough:
Maida- 1 cup
Cranberry juice- 4 tbsp
Desi ghee- 2 tbsp
FOR FILLING:
Ghee- 1 tbsp
Ginger- 1/2tbsp grated
Kalimirch powder- ½ tsp
Green chilli- ½ tsp
Dalchini powder- 1 pinch
Pineapple chopped- ½ cup
Apple chopped- ½ cup
Kejur- 5 nos
chopped Kaju, kishmis, Cramberry- ½ cup
Sugar- 2 tbsp
Paneer- 2 tbsp
Khoya- 2 tbsp
Coconut- 2 tbsp
Kiwi chopped- 1 nos
Graped- 6 nos slices
Pudina- 2tbsp
Directions:
METHOD:
Shift the flour into a bowl and rub in the desi ghee with your fingerprints till the mixture gets a bread crumb type. Now add cranberry juice to it and knead into a stiff dough cover with a piece of cloth and keep it aside for 10 minutes.
FOR FILLING:
Heat ghee in a pan and add all the fruits and stir it properly and cook for two minutes till the juice from the fruits blend well properly. Then add sugar, ginger grated, mirchi, all dry fruits, coconut,sprinkle dalchini powder, mawa to it and mix well. Once done keep it aside to cook well.
Divide the mixture into 12 parts and shape each of them into band roll them out to a puri. Place one portion of the khoya mixture on one half of the puri fold the other half over the stuffing and press the edges to seal or use mould . repeat the same with the other balls.
In a pan ghee, gently slide in a few gujiyas at a time and deep fry till golden brown. Drain the gujiyas on an absorbent paper and serve with grated mewa