Gado Gado
'Gado Gado' literally meaning "mix mix", is an Indonesian salad of mixed vegetables with a peanut dressing. It is also a popular street food of Indonesia. Tasting deliciously with the perfect blend of sweetness and tanginess, Gado Gado is not only a salad but a wholesome meal by itself.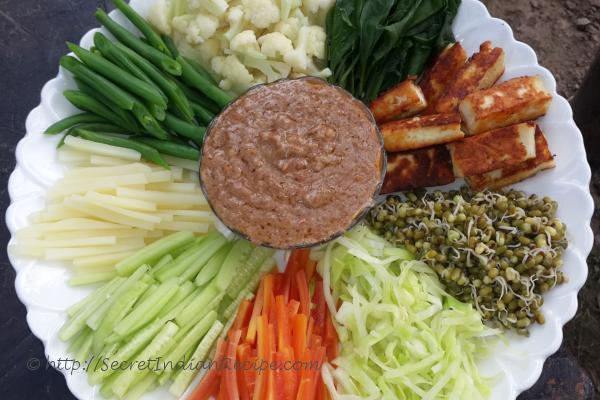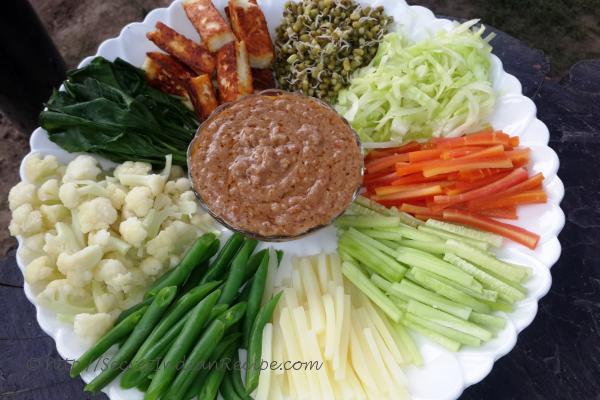 Ingredients:
French Beans- 1/2 cup, cut lengthwise
Cabbage- 1/2 cup, shredded
Carrot- 1/2 cup, cut lengthwise
Cauliflower florets- 1/2 cup
Potato- 1/2 cup, cut lengthwise and soaked in water
Cucumber- 1/2 cup, cut lengthwise
Bean sprouts- 1/2 cup
Spinach- 10 to 15 baby leaves
Tofu- 100 gms, cut lengthwise
For Peanut Sauce:
Peanut- 1/2 cup
Garlic- 3 or 4 cloves, peeled
Shallots- 4 or 5, peeled
Red Chilly Powder- 1 tsp
Brown Sugar or Palm Sugar- 1 tsp (I have used palm sugar)
Salt to taste
Tamarind Paste- 1 tbsp
Vegetable Oil- 2 tbsp + 1 tsp
Water- 1 ½ cups approximately
Directions:
Wash and chop the veggies as mentioned above. I have used the whole baby spinach leaves as such…If you are using large spinach leaves, torn them into pieces.
Blanch French beans, carrots, cauliflower florets, shredded cabbage, bean sprouts and spinach separately with little bit of salt. Dip them in cold water for few minutes and strain the excess water. The veggies should be crisp and firm and not soft.
Boil the potatoes till they are cooked well but firm. Strain the excess water. Cucumber can be used raw. Refrigerate the veggies till we use them in salad.
Make slurry of 1 tsp of corn flour, 3 tbsp of water, salt and pepper to taste. Dip tofu pieces in this slurry and pan fry/roast them on all the sides. You can also roast plain tofu without using corn flour paste…my family doesn't like to have plain fried tofu. So, I follow this method to make tofu more interesting.
To prepare peanut sauce: Heat 1 tsp of oil in a kadai and roast peanuts till they turn golden in colour. Using a mortar and pestle, pound the roasted peanuts into a coarse powder. Keep it aside. Now, pound the shallots and garlic cloves coarsely.
Heat 2 tbsp of oil, add pounded shallots and garlic. Sauté till nice aroma emits. Add red chilly powder, salt, palm sugar and sauté for a second. Add the given amount of water followed by tamarind paste. Mix well and bring it to boil.
Stir the pounded peanut powder into the sauce. Simmer until the sauce thickens. Switch off the flame and let it cool.
Before serving, arrange the vegetables and fried tofu in a serving platter. Pour the peanut sauce in the middle and serve. You can also serve it like a finger salad with peanut sauce in a bowl.
Footnotes:
Crackers of any flavour, roasted garlic or shallots can be used for garnishing.