Gahama Kheer
#DiwaliRegionalRecipe
This unique recipe is created by my Grandma who used to cook this every Festive season. This sweet dish is thick and heavy, which would be enough to fill one's tummy. It is absolutely a mouthwatering tasty recipe with alot of nutrition and health benefits, a must try indeed.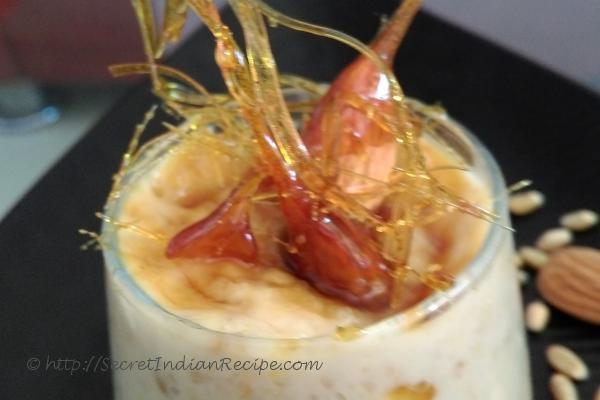 Ingredients:
Wheat - 1 cup
Sugar - 3 tbs
Coconut milk - 4 cups
Milk - 1 cup
Cardamom - 2 nos
Cloves - 4 nos
Ghee -2 tbs
Cashewnut -10 nos fried
Raisin - 10 nos fried
Norengud - 2 tbs
For decoration caramelized almond
Directions:
Clean wheat ,wash two to three times with water.
Then soak overnight .
Drain and grind into a coarse paste .
Heat ghee add ground wheat and cook on low heat for 10 minutes.
Add coconut milk to it and cook stirring continuously.
Then add milk , sugar ,cardamom & clove ,mix till it gets dissolved .
Then add jaggery (norengud) fried cashew nuts and raisins .
Cook till it is thick but of pouring consistency .
Garnish with caramelized almond and sugar threads.
Serve hot or cold.