Gajar Ka Halwa
Any celebration is not complete without a delectable "something sweet" Recently, I decided to go with a family favorite-"Gajar ka Halwa" or a Carrot pudding for a birthday celebration.The recipe calls for grated carrots, milk and homemade mawa (recipe included) to be cooked together. The carrots used for a halwa should be preferably the red variety most often found in the winter months. You could however use the orange ones if the red ones are not available.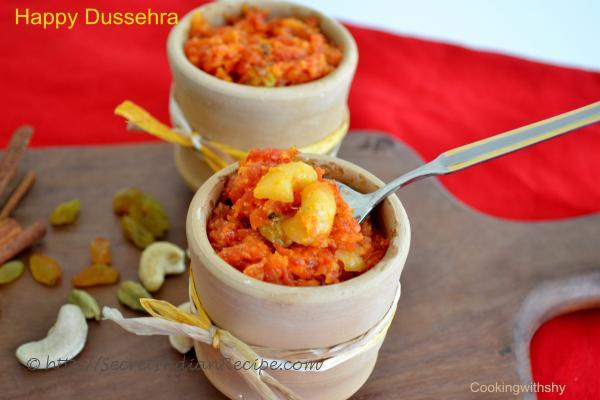 Ingredients:
6-8 medium Carrots (peeled and grated)
3 tablespoons pure Ghee
2 cups Milk
1 cup Sugar
8-10 Almonds ( blanched and slivered)
Handful of Cashew nuts (chopped roughly)
Few Raisins
Pinch of Saffron
1/2 teaspoon Cardamom powder
1 cup mawa (crumbled)
(for Mawa)
200 grams milk powder ( full fat)
40 ml Milk
Muslin cloth 1
Directions:
We can start by making the mawa first. For this Knead the milk powder with a little bit of milk at a time. Keep doing this till a soft dough has been formed. Tie the ball into a muslin cloth. Add water into a pressure cooker. Place a trivet in it. Keep the muslin cloth in a small bowl over the trivet. Shut the cooker without using the weight and steam the dough for about 15-20 minutes. The mawa is now ready.
Heat the ghee in a heavy bottom pan. Add the grated carrots and sauté them for about 8-10 minutes.
Next add in the milk and cook this mixture till the carrots softens and the mixture is dry. Now add in the cardamom powder and the saffron.
lastly stir in the crumbled mawa and the sugar. Cook the mixture further for about 5 minutes. Mix in the raisins and cashew nuts. Garnish with slivered almonds.
Can be served hot or cold.