Gajorer Pattisappte (carrot Pancake)
I am not very fond of sweets but I like trying new desserts. Pattishapte is a common Bengali sweet recipe. My batch mate in Presidency College, Parmita was the person, who introduced me to this recipe. Her Mother used to make awesome Pattishapte. Unlike the traditional way of making the batter with rice flour, she used to make the batter of sooji (Semolina) and hence it was a quick formula. The pur or filling is usually made by combining grated coconut and jaggery. Here in this recipe I avoid Coconut and jaggery and replace it with grated carrots and sugar to match my North Indian taste. The addition of Condensed milk over adds to the flavor, makes it more soft and more sinful!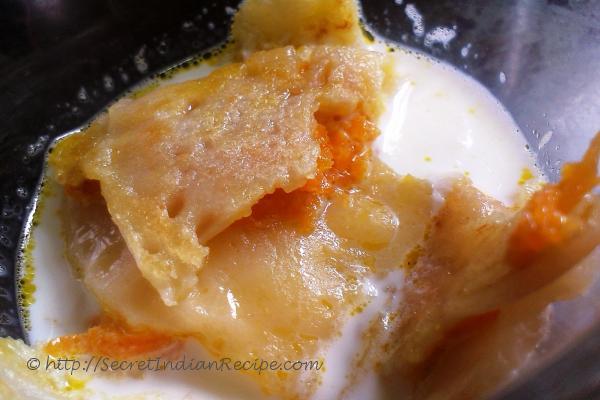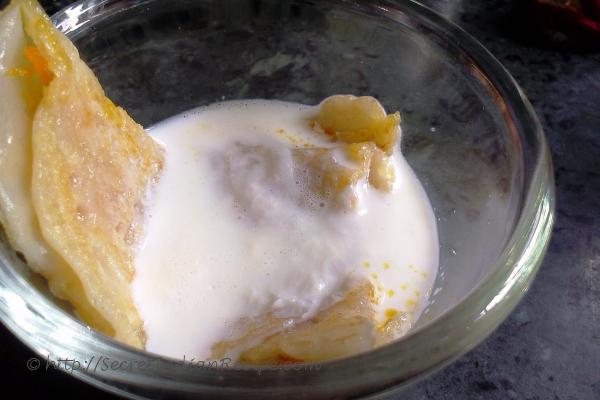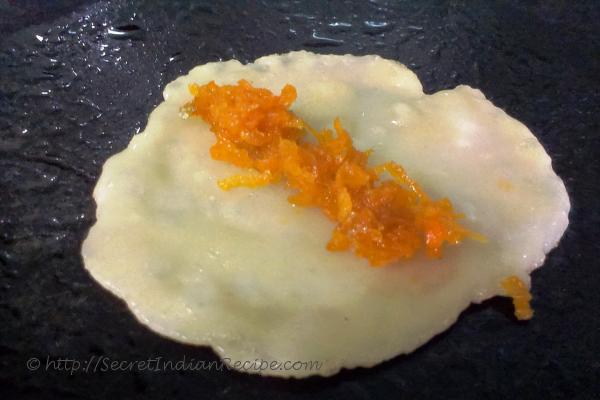 Ingredients:
Gajor (Carrot) – finely grated ½ cup
Sugar – ½ cup
Dry Coconut – 4-5 tablespoon (Grated, optional)
Maida (All purpose flour) – 2 tablespoon
Sooji (Semolina) – ½ cup
Milk – 500 ml
Cardamom Powder – a pinch
Ghee – 3-4 tablespoon
Directions:
Begin with making the Pur (Filling) first. For this heat 1 tablespoon of ghee in a pan. Add grated carrots, grated coconut and sugar and sauté on low flame till the sugar dissolves and mixes with the carrot. This will take 1-2 mintues.
Now prepare the batter by combining sooji, all purpose flour, 2 tablespoon of sugar and required quantity of water. The batter should be of dosa consistency. Keep it aside for 30 mintues.
Simultaneously boil the milk in a separate pan with Cardamom powder till it is reduced to ½. Add Sugar to taste and keep aside.
To make pattishapte, heat about 1/3 tablespoon of ghee in a frying pan. Pour the all purpose flour batter in circular motion to make a small round pancake. Place a spoonful of carrot mixture / pur at the centre and then fold it in a half moon. With the given ingredients you will be able to make 6-8 pattishapte.
Take out and put in boiled milk. Let the pattishapte soak the goodness of condensed milk for a minute and then serve hot.